Education
Average To Topper Strategy For Neet 2023: An Ultimate Guide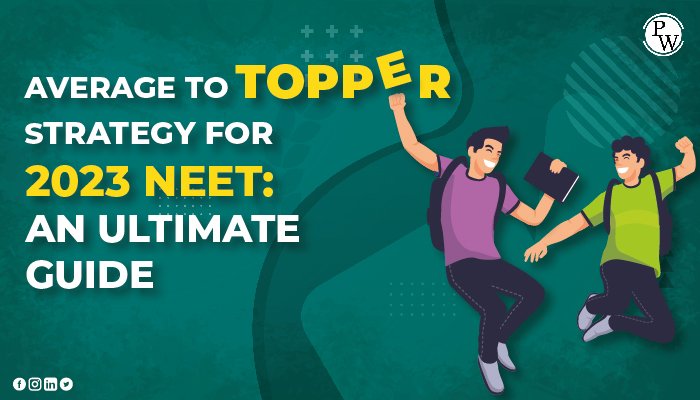 NEET (National Eligibility cum Entrance Test) is one of the most strenuous examinations in India conducted by the NTA (National Test Agency) for admissions in medical science.
NEET students frequently ask, "Can an average student qualify for NEET Exam? Is it possible?" Yes, an average student can qualify for the NEET Examination. e
The examination is vital as the students will get a chance to get admitted into the most prestigious colleges in India, like AIIMS (All India Institute of Medical Science). 
Go with the Physics Wallah batch for NEET 2023 for better preparation. 
It might be your first attempt, or you're new to all the studying, but you're at the right place with all your queries. This blog will briefly describe all the strategies you need to follow to complete your journey from being an average student to a topper.
NEET Highlights
Here's a few highlights/key points regarding the NEET Examination:
Name of the exam
National Eligibility Cum Entrance Test (NEET)
Conducting Body
National Testing Agency (NTA)
Exam Frequency
Once a year
Exam Mode
Offline (Pen and Paper based)
Medium of the exam
13 languages- Hindi, English, Urdu, Odia, Bengali, Assamese, Kannada, Malayalam, Tamil, Telugu, Gujarati, Marathi, Punjabi
Number of Questions
200 (180 to be attempted)
Number of Sections
Physics, Chemistry, Botany, Zoology
Type of Questions
Multiple Choice (MCQs)
Marking Scheme
+4 for Correct

-1 for Incorrect

Total Marks
720
Exam Duration
200 minutes (3 hours and 20 minutes)
Official website
neet.nta.nic.in
Detailed Strategy
Know the syllabus
If you wish to accomplish your goal, first know your goal. Analyze the syllabus and make your goal accordingly. A syllabus is a must to make the go-to plan for the examination.
For example, biology is the most essential subject while preparing for the NEET examination as it is the entrance test for the medical science college. 
Make a plan
It's no big deal to get a good score in the examination. Anyone can get a perfect score with the right plan and motivation. 
After knowing the syllabus, make a plan; if you like to study a complex topic in the morning, then make your strategy accordingly. If you're confused about how to make a plan and follow it, then join the physics wallah neet course. It'll provide you with a way to accomplish your goal. 
Solve Physics Numericals
Students often underestimate the importance of Physics numericals due to the weightage of the biology questions given in the examination.  
But you need not worry about it. Here you can check out how to solve physics numericals for neet. 
Prepare Notes
Notes are the most crucial part of the preparation. Most students think copying notes will help them get a good score, but it won't. 
It'll only matter if you're preparing notes by yourself. With that, you will know about the topic and can easily understand it while studying. 
Previous Year Questions & Mock Tests
Previous year questions and mock tests are essential to the preparation. Attempt as many previous year's papers and mock tests as possible. 
It'll give you a brief idea about the questions asked in the examination. 
Conclusion
Keep one thing in mind, NEET does not check many marks you assess but how much knowledge you've acquired. It does not matter that you're an average student in school.
You can easily excel in your examination with the correct methods. Do follow the strategies accordingly. 
FAQ
Q1. What creates better opportunities for average students to get a good score?
Ans. Preparation with better study techniques will improve opportunities for average students to get good scores.
Q2. Is it difficult to crack AIIMS?
Ans. Yes, it is a bit more complex than the NEET Examination. But with the right mind and motivation, you can also crack AIIMS. Do a complete research and find the study material suitable for you. 
Q3. Where can I apply for the NEET Examination?
Ans. You can apply for the NEET Examination on the official website.