Business
A Complete Guide To Restaurant Management System
Restaurant Management System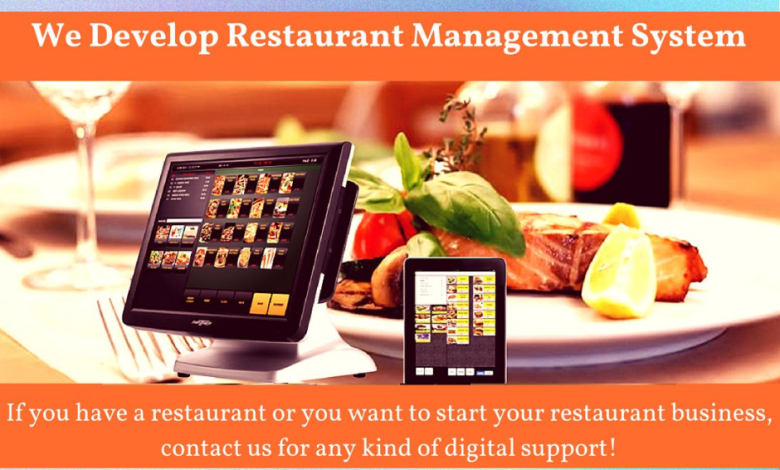 Restaurant management software's environment is complex and gets even more so yearly. There are several technologies out there that simplify life and solve issues that restaurants encounter.
Products are available for every type of restaurant operation. There is also the vast field of restaurant analytics.
It appears that efforts to simplify are actually creating additional complexity.
So what exactly is a restaurant management system, and why is it effective?
Software that facilitates the streamlining of business processes for the food industry is referred to as a restaurant management system. Specifically, eating establishments, bars, bakeries, cafes, cloud (ghost, dark, virtual) kitchens, food trucks, or delivery services.
It combines all the beneficial aspects of conventional POS (Point of Sale) systems with tools for managing calls, taking reservations for tables, streamlining inventory management, handling billing, providing actionable analytics, and assisting with marketing initiatives like CRM, loyalty schemes, and establishing an online presence. It also utilises open APIs that enable you to link with any third-party product and seamlessly integrates with your existing restaurant technology systems (such as your accounting and employee management software).
We'll go a step farther and define it as a stack of software that supports the expansion of eateries.
By assisting eateries to speed up order processing.

Automate repetitive tasks.

Provide excellent client service.

Calculate Profits and Costs
In the end, a good one allows you to concentrate on the important things, such as your creativity, the food, and the client experience.
However, as you might expect, these software stacks are not inexpensive. Additionally, it is a waste of time and money to reevaluate them whenever your demands change. You require a system that is packed with features and built with future requirements in mind. A restaurant management system is made up of several devices and programs.We will go over every piece of software and hardware in the restaurant management system stack. so that you don't have to read five distinct articles to get the full picture, each one is described individually and in length.
POS in restaurants
The core of your restaurant management system is the point of sale (POS). When your customer's orders are entered, her information is added to your database. Aside from this, your POS handles the major operational tasks of ticketing, billing, printing, and KOT. Now that customer data can be analysed, you can understand what works for you and make better, more knowledgeable judgments. Additionally, you fuel your marketing with the customer information you gather. Much of it can now be mechanised. Consider automated emails, SMS marketing, and social media advertising to entice your customer to return. Did you realise that repeat customers bring in 75% of the money at your restaurant? Your POS is essential to doing this.
Listed below are the primary advantages:
As long as you have an active internet connection, 
1.POS software can be utilised from the comfort of your home or anywhere else.
Keep track of your data. 

Quick software updates keep your software operating at peak performance.

Data management that is safer and more secure.
 Restaurant analytics is also make simple With your POS. Operational metrics or restaurant strategy.
You can now gauge:
Inventory Turnover with a reliable POS (Food Usage)

Restaurant CRM – Engagement indicators such as open rates, data on social media usage.
Web-based ordering system
These methods assist you in generating revenue straight from your website and mobile application.
Having one offers a number of advantages:
Reduce the commissions you pay to outside aggregators

Increase earnings from each order savings

Enables you to sell yourself differently and set yourself apart from the competitors.
Create the brand you desire for your app and website.
 5.Enables you to gather customer information, which further enables you to manage your own CRM campaigns, marketing, and customer retention.
Gives you a permanent, non-depreciating an-asset, your own space on the internet.
It's important to have a fluid ordering, saving, checkout, paying, tracking your arrival, feedback, and loyalty experience. Frequently, your online ordering platform is the first point of contact with your customers. Additionally, it can significantly contribute to creating a strong first impression and developing your brand. We strongly advise choosing a restaurant management system with an effective integrated online ordering system.
Order Control
Being aware of events at your restaurant, both offline and online, is always a good idea. You receive orders from your own order platform as well as through online food aggregators like Foodpanda, Swiggy, and Zomato. Your dashboard will now show all the critical information regarding orders and status messages, greatly simplifying your administration process.
Having an order management platform has the following main advantages:
Comprehensive order management that includes all channels

Receive alerts about order statuses

Control all crucial client calls from a single dashboard.
Mechanism for reserving tables
For the dine-in restaurant experience, this is crucial. You should be able to handle all of your table reservations from your restaurant management system and take reservations from your website. You are able to keep a close eye on the guest list and wait times as a result. An additional benefits are infome you with your devoted consumers . By doing this, you can increase their sense of awe.
Management of Restaurant Marketing
Make sure you properly communicate all of your offerings, menu items, special discounts, and more. This is what keeps your clients interested and encourages them to visit your restaurant again.
Loyalty Control
enables you to provide your devoted clients better rewards. A strong loyalty program can encourage new consumers to stick around and become regulars. Based on the "degree of loyalty" displayed, you can further categorise this. Their overall order volume, average order value, frequency of visits, and other factors can  measure this.
Accounting software and restaurant finances
You should be able to track sales and earnings, calculate the cost of goods sold (COGS), and manage your taxes with the use of restaurant accounting and financial software. one, we advise integrating with specialised accounting software. one that has every feature you require to guarantee that your financial concerns are handled properly.
A restaurant management should have
     The system must have:
2      .Cloud-based
    Immediate billing
4.     Operations at the Point of Sale (moving beyond just billing)
   Stock or inventory management

   Menu revisions

   CRM and marketing module
  8. Centralization
9.    Scalability
10.  Integrations
 A good restaurant management system improve your restaurant's operation greatly. Even though there are many things to think about, it is important to take the time to figure out exactly how the system will benefit your company and what you hope to get out of it. You're well on your way to using a restaurant management system once you have a certain objective in mind and a list of features that are non-negotiable.