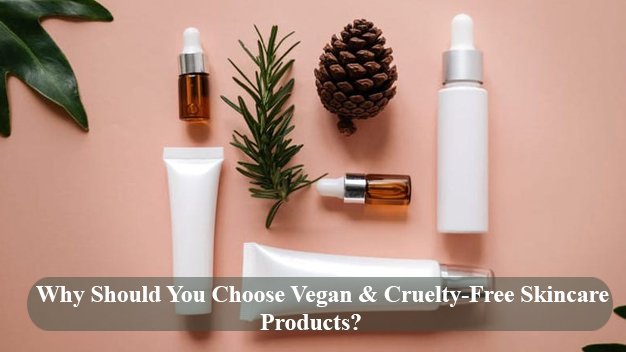 In the modern age, vegan skincare is changing the face of mainstream beauty.  With more conscious consumers choosing cruelty-free and vegan skincare products for their incredible benefits.
As vegan beauty box curators, we have first-hand experience with the rewards of transitioning. To vegan beauty products and how eliminating cruelty from beauty can lead to a happier and healthier life.
The transition to vegan skincare may not be as simple as it sounds. Are you unsure what cruelty-free products are? Are you wondering where to start? That's okay.
Get started on your vegan beauty journey with this complete Article on vegan skincare. Now is the best time to begin a vegan skincare regimen that will benefit you, the planet, and our furry friends.
What Is Vegan Skincare?
Veganism is an all-encompassing concept of living a positive, conscious, healthy life. Being vegan goes beyond what goes on your fork. It also includes what you wear and what you use on your body.
Therefore, vegan skincare is an essential part of the vegan lifestyle. However, being cruelty-free does not mean you have to be vegan.
The term vegan skincare refers to makeup and skincare products not derived from animals, animal products, or animal by-products. Animal by-products are parts of animals not eaten by humans. For example, collagen is an animal by-product in cosmetics and beauty products.
The second aspect of vegan beauty is cruelty-free skincare. Beauty products are commonly tested on animals, but cruelty-free skincare products are not.
In recent years, vegan beauty has shifted from being a niche trend to becoming mainstream, which means companies are creating incredible beauty products that are better for everyone.
Top Benefits of Vegan Skincare
With more people opting for healthier, cleaner, and kinder products, vegan skincare is among the quickest growing sectors in the beauty industry. When we start to see the change we want to see in the world, there is no doubt that it will bring about a healthier, more beautiful world.
Here are the top benefits of vegan skincare:
1. Keep Toxins And Harmful Ingredients Out Of Your Body
It's long known that a vegan diet has drastic health benefits, so why not apply the same thinking to vegan skincare? When you choose vegan beauty products, you're more likely to avoid the toxins, unclean ingredients, and potentially dangerous ingredients found in non-vegan products.
The reason for this is that vegan beauty and cosmetic brands actively promote cleaner products due to their customers' evolving ingredient preferences.
2. Improve The Texture Of The Skin
Many harsh chemicals found in non-vegan products, such as fragrances, parabens, petroleum, and synthetic colorants, cause minor and significant skin irritation. These chemicals are also often used as fillers, which means they have no substance or purpose.
Therefore, they irritate your skin and harm the environment simultaneously. If you choose vegan skincare products, you'll be choosing quality for your skin. And you'll thank yourself later on in life.
3. The Long-Term Benefits
It is well known that a consistent vegan skincare routine will provide long-term skin nourishment. This is because vegan skincare products contain minerals, vitamins, and antioxidants.
4. Animal-Friendly
The choice of vegan makeup and beauty products also helps our fellow earthlings. A cruelty-free skincare routine, similar to a vegan diet, eliminates the need to use animals or animal parts in any way.
There has been a dramatic increase in vegan and cruelty-free beauty products in recent years, thanks to the rise of animal rights. This has put major cosmetic brands under scrutiny for their ingredients and testing processes, which has led to an increase in vegan and cruelty-free cosmetics.
Nowadays, consumers have access to many vegan and cruelty-free beauty brands, making finding their 'holy grail' cosmetics items easier than ever. As a result, we reduce the demand for products produced using animal testing by purchasing these products.
5. Better For The Environment
Plant-based beauty products also ease the strain on Earth's resources. However, animal agriculture is highly energy-intensive. Furthermore, it is one of the leading sources of atmospheric greenhouse gases such as carbon dioxide, methane, and nitrous oxide.
The use of vegan beauty products is more sustainable use of our resources as they require less energy from fossil fuels, less land, and less water. In addition, by eliminating animal products from our skincare routine, we can significantly reduce our environmental footprint.
Packaging plays a crucial role in vegan brands, with many brands recycling products that usually go into landfills to create packages. Brands like Pacifica Beauty, regularly featured in Vegan cuts boxes, boast their recycling program.
In a world where pollution and waste threaten ecosystems we depend on, each conscious action counts—for us and future generations.