Business
Why a Safe Approach to Sharps is Important?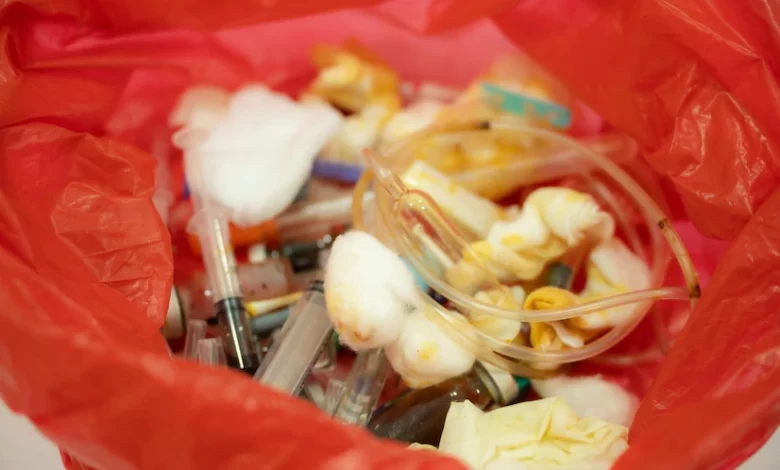 According to the findings of certain studies, healthcare personnel sustain nearly two million needlestick injuries each year. With the incidence of injuries being greatest among dentists.
As a result of this, it is essential for professionals to remain current on sharps safety and to ensure that every member of the team is aware of the reasons why it is essential to adhere to the appropriate disposal of clinical waste and sharp objects. 
What Exactly is a Sharp Wound? 
Needles, blades, and other types of medical equipment may be classified as sharps waste. Because they have the potential to cause damage by slicing or puncturing the skin. Accidental penetration of the skin by a sharp object results in what is known as a percutaneous injury. Sharp injuries are also known as penetrating injuries. There is a potential for infection transmission if the instrument has been taint by body fluids. Such as blood or other bodily fluids. Occupational exposure is the term use to describe when something like this happens in a working environment.
The Risks Associated with Injuries Caused by Needlesticks
According to the findings of a recent study. More than half of all dental practitioners and trainees in the field reported experiencing at least one major needlestick injury in 2019. The most significant risk associated with needlestick injuries is the possibility that they could result in the spread of diseases that can drastically alter a person's life, such as HIV, hepatitis B, and hepatitis C.
Even while modern medicine has make it possible to treat or at the very least control these diseases. The discovery that a person has been infect with one of these ailments may still cause a significant amount of mental suffering. In addition, it is possible that a person who has been infecte with one of these illnesses would be unaware of the fact that they are carriers of the disease for some time.
Therefore, it is crucial that anytime professionals do suffer from a needlestick injury. They seek medical assistance in order to avoid future transmission. This is done in order to prevent the spared of infectious diseases.
What is Recommended Under Such Circumstances?
When it comes to reducing the risk of injuries caused by sharp objects. The greatest piece of advice is to make sure that you are aware of the location of any sharp items at all times and to never leave them unattended. Another successful method for assisting in the prevention of unintentional injuries is to encase syringes in the protective sheathing. This is due to the fact that the effort to do so might significantly increase the likelihood of sustaining an injury.
Preventing Exposure 
Everyone in the organisation, from the chief executive and the board to the healthcare personnel. Has a role to play in reducing the risk of sharp injuries. It is the responsibility of medical professionals to safeguard not only themselves but also others around them. Employers, on the other hand, are task with evaluating employees' exposure risks and finding ways to minimise them as much as feasible.
The safest method for preventing injuries is to clear the working area of any potentially harmful materials entirely. And this strategy should be implement whenever it's possible to do so. 

Eliminating the use of needles and sharps by. For instance, switching to jet injectors in place of needles and syringes or using intravenous systems that do not need needles

Getting rid of any injections that aren't essential

Removing sharp objects that are not essential, such as towel clips.
Managing The Amount Of Exposure
If it is not possible to eliminate the danger, then the exposure to potentially harmful chemicals and sharp objects has to be adequately managed with yellow lidded sharps bins. The use of engineering controls, which are utilise to isolate or remove risks from a workplace. May aid in contributing to a large reduction in the threat. For every process, safety-engineer equipment such as retractable needles, safety lancets, blunt needles, needle counters, and blade removers must be use. These are just a few examples of the kinds of controls that must be implement.
Legislation Regarding Healthcare
The Health and Social Care Act of the United Kingdom required the publication of a certain code of practices for the prevention and control of healthcare-associated infections. This code was create by the government. The code mandates that NHS organisations put in place procedures that include sharps waste protection devices in their policies.
In England, the Care Quality Commission (CQC) is in charge of registering and licensing care services to verify that they are up to par with the essential requirements. Concerning the safety of sharps waste management. The code addresses the need of preventing the transmission of blood-borne viruses by adopting the necessary measures. Which are as follows:
Hepatitis B vaccination as a preventative measure

Utilisation of hand protection gear such as gloves and other garments

Handling and disposal of sharps in

yellow sharps bin disposal,

as well as the supply of medical equipment that includes sharps protection

Efforts made to minimise the dangers posed by surgical operations.
Wrapping Up
Safety around sharp objects is an essential issue that affects all those working in the medical industry. It should go without saying that healthcare workers who directly handle sharps are at a higher risk for sticks and cuts. If sharps are not keep or dispose of in the appropriate manner.
To enquire about clinical waste disposal in your area, get in touch with Trikon Clinical Waste today!