Fashion
Which Is The Best Metal For Loose Moissanite Diamonds?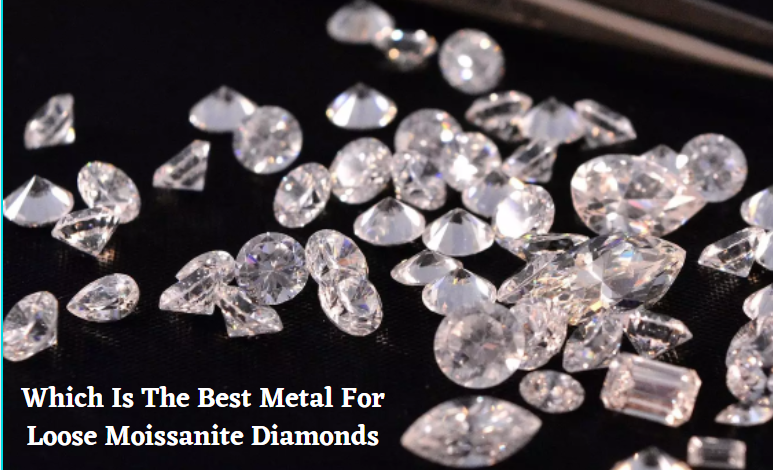 Choosing The Right Metal.
Choosing a metal is one of the biggest decisions you'll make when purchasing loose moissanite diamonds. This decision can change your ring from one that looks beautiful to one that falls apart in less than a year. Here are some things to consider when shopping for metals: Will they hold their value or lose value over time? How quickly does it tarnish or corrode? What are its limitations for customization (size, finish, karats, etc.)? And most importantly, what do other buyers and sellers have to say about it? Here's a quick rundown of popular metals and their pluses and minuses.
Gold has long been considered a standard for fine jewellery, and many people still prefer it as an investment. Its high price tag makes gold an expensive option for those on a budget—especially considering today's prices aren't cheap either—but there are some benefits worth considering. It will never lose value over time because it doesn't decay or rust like other metals might. It's also relatively easy to work with, making customization options endless; however, there is more risk involved because gold isn't indestructible like platinum and palladium may be. Gold also reacts with chemicals found in everyday products such as chlorine bleach, which means you'll need to avoid exposing your new piece of jewellery to these substances if possible.
Choosing The Right Setting.
If you're going to purchase loose moissanite diamond jewellery (or, for that matter, any loose moissanite diamonds), one of your most important choices will be picking a setting. Your first thought might be gold—after all, gold has long been used as a symbol of wealth and splendour. But if you're purchasing moissanite, you probably aren't interested in traditional yellow gold settings. Instead, choose platinum or palladium.
Both are white metals that will let loose moissanites shine. Platinum is more expensive than palladium but it will have better resale value when compared to a lower-quality alternative made of white gold or silver. Plus, its density makes it a better choice for holding in place larger gems like moissanites. It also tends to be less reactive with skin so it's safer if you wear your ring every day. However, many people prefer palladium because of its lower cost and lighter weight. It won't tarnish easily either which makes it great for everyday wear. And since both metals are hypoallergenic, they're safe even for those with sensitive skin! Just make sure you get high-quality jewellery from reputable sellers like James Allen Jewelry or Bluenile because low-grade materials can cause allergic reactions too!
Where To Buy Loose Moissanite Diamonds?
I own my jewellery shop and I am always looking for amazing products that will help me to expand my business. When I first heard about moissanite fine jewellery, I knew that it would be something that could be a huge benefit to my business.
It is often used in engagement rings and has very similar properties to a diamond. It's also much more affordable so we can pass these savings on to our customers. We have only started using moissanite fine jewellery, but so far we have had an overwhelmingly positive response from our customers! If you are interested in investing in loose moissanite diamonds, I recommend finding a reputable dealer online or through your moissanite fine jewelry.
How Much Are Loose Moissanite Diamonds?
Loose moissanite diamonds are essentially raw stones, which means they aren't already set in a ring or pendant. As a result, their price is significantly lower than pre-set loose moissanite diamonds and other fine jewellery made with moissanite. However, if you're looking for an elegant piece of jewellery that you can wear daily, loose moissanite is still a fantastic choice that will save you money and last just as long as any other fine jewellery. After all, what could be more beautiful than something made from nature?
Buying Online Vs. Offline.
Online shopping is more convenient and lets you compare prices from different retailers. However, there's a big difference between buying loose moissanite diamonds online versus in-store. The biggest difference is that you can see loose moissanite diamonds in person to determine quality. You may have heard horror stories about other people ordering loose moissanite diamonds online and receiving cheap, low-quality rocks instead of genuine stones—this happens when people purchase moissanite diamond jewellery online and think they're getting loose stones.
All genuine moissanite fine jewellery should come with a certificate guaranteeing authenticity so before purchasing a loose diamond, be sure to look up its specs online (karat, clarity, colour) and ask your jeweller if it looks like what you expected based on these parameters.
Know about Lab Grown Diamonds