There are many ways to show gratitude to your clients and customers, but giving them custom promotional products is one of the best. These products can be customized with any message or logo design, making them perfect as an appreciation gift.
The more you wear brands, the better chance they will have of being seen. The value behind using promotional gifts is strong if used correctly and strategically.
Custom promotional products allow you to make a physical connection with your target audience. They can elicit responses from the senses, especially the sensation of touch. They are more memorable because they allow people to connect with your brand. After you pass them over, they carry on making impressions.
Consider the following scenario
In the 14 months that the typical branded rain poncho is retained, it will generate multiple folds of impressions and touchpoints. The user would end up showing your imprinted brand name on major city streets and parking lots whenever it rains.
Considering promotional swag is one-time-only advertising, it is evident that it is a great investment!
When wisely distributed, such impressions are from individuals who are more inclined to utilise your product. Almost everyone who picks up one of your China merchandise at a trade exhibition, for example, is a prospective customer. These products may serve a variety of reasons, ranging from creating buzz and goodwill to providing added value to customers.
They can be given as thank-you presents to clients and staff, or as a motivator to upgrade or increase recommendations. Such branded items from China will continue to remind your clients of your brand, more so, whatever their original function was.
Most Suitable Custom Promotional Products
Here are some of our favourite innovative promotional products that will create an impression and help you get your message out.
CUSTOM TECH PRODUCTS
Several electronic goods may leave a lasting impact, ranging from wireless devices to reused connections. These are the best wholesale promotional products that made a splash and then developed into a typhoon. Every type of device, including headphones, computer mice, keyboards, speakers, earbuds, chargers, power banks, and more, will benefit differently for different purposes. And, like everything else, they become obsolete and therefore must be upgraded.
PROMOTIONAL BAGS
People use canvas totes and reusable shopping bags in high-traffic places like travelling, buying groceries, or going to the beach, therefore they're popular branded merchandise. A promotional tote bag will generate 3,300 hits on average.
They're the most used promotional product, with 73 % owning one. When constructed with a thick, touchable fabric, tote bags provide the ideal balance of luxury and usefulness. You can reach out to the best promotional products wholesale suppliers in the market to procure the same.
PERSONALIZED DRINKWARE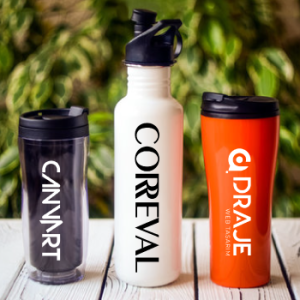 Drinkware that has been customised might become a cherished everyday item. Many consumers take a refillable water bottle with them everywhere they go, from the gym to the office, where your brand is visible among a large number of people.
As an incentive for customers to place a larger order, successful online coffee firms frequently offer them complimentary branded travel tumblers or ceramic coffee mugs. They might even offer China wholesale drinkware merchandise to their adoring fans.
Consumers may get a lot of bang for their buck with T-shirts. Someone's next fashion statement may get inspire by a beautiful or distinctive design. Others are content to wear a shirt that honours their alma mater or a favourite product. Investing in these China wholesale t-shirts is sure to bring in a lot of profits.
Your consumers may be going to the gym or doing chores while wearing your brand in public, earning the most desirable impacts. A comfortable T-shirt or a traditional long-sleeve is a public favourite, with 80% of customers owning one.
CUSTOM PRINTED HEADWEAR
Hats and beanies offer a creative outlet for their wearers, with designs that one can see from miles away. Creative colours or patterned materials are what set these pieces apart in today's crowded marketplace. These fashion items are sure not going unnoticed.
With 69% of people owning promotional headwear, it's an easy way to connect your brand to potential customers. Such people may otherwise never know that you existed without them wearing one proudly on display.
Conclusion
Offering custom promotional products that your clients will utilise and want to get their hands on is the key to choosing the appropriate offers. If your clients already have a desk drawer full of branded China's wholesale promotional products, adding a few more won't stop you from standing out ahead in the market competition.