What is SEO?
it refers to the process of improving your website to increase its ranking when users search for products or services related to your company on Google, Bing, and other search engines. SEO is also an profession, there are many SEO experts in market who are offering SEO service and earn easy money. Learn its major three types of seo and enhance your knowledge.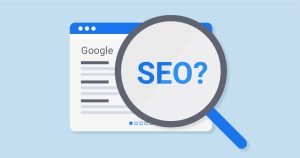 SEO stand for
                              SEO stands for "search engine optimization"
How many types of SEO?
There are three types of SEO;
ON-Page SEO
OFF-Page SEO
Technical SEO
What is ON-Page SEO?
The process of improving elements on your website is known as ON-Page SEO.(This type of SEO is also known as ON-Site SEO).
How many checklists of ON-Page SEO?
There are five checklists for ON-page SEO.
What are the names of checklists of the ON-Page of SEO?
The names of checklists of  the ON-page SEO are given below:
Optimize HTML file
Optimize content
Keyword optimization
Optimized URLs
Optimize image
1:What is meant by an Optimized HTML file?
                                             HTML stands for "Hyper Text Markup Language"
Almost every website is created on the basis of  HTML  With the help of HTML, you can design websites with headings, sub-headings, titles, and other helpful text-organizing elements.
What is Optimize content?
By improving your content, you are giving search engines important information that users will use to understand your data.
Content may be in the form of Text, Images, videos, etc.
What is the role of Keyword optimization in ON-Page SEO? 
Using keywords carefully in your website can help search engines to understand what your website is about and make it simpler for users to find it when they search similar terms. This process is known as keyword optimization.
What is meant by Optimized URLs?
 URLs stand for  "Uniform Resource Locators"
How the URLs are optimized?
Less depth is better 

use keywords in URLs

use hyphen (-) instead of a comma (,), semicolon(;), etc

use lower case (small letters) in URLs 

avoid using data in URLs
What is image optimization?
Image optimization is a process of Providing high-quality images in a suitable format, dimension, size, and resolution.
What is OFF-Page SEO?
"The process of improving elements outside the website is OFF-Page SEO." (This type of SEO is also known as OFF-Site SEO).
What are the factors of OFF-Page SEO?
Backlinks
Domain authority
Social links
Forum submission
What are Backlinks?
Backlinks are the links that connect one website to a page of  another website.
How many types of backlinks?
There are four types of backlinks;
1:Profile backlinks
2:Guest post backlinks
3:Forum backlinks
4:Article backlinks
What is meant by Domain authority?
A website's performance in search engine results  can be determined by its domain authority.
What is the role of Social links in OFF-Page SEO?
To rank your website's organic traffic in search engines, you may use social media links (WhatsApp, Facebook, Instagram) or activities from your social accounts.
What is Forum submission?
The method of online conversations and arguments is known as forum submission.
3:What is Technical SEO?
Technical SEO is the process of ensuring that a website meets the technical requirement of modern Search Engines with the goal of improved organic ranking (traffic), important elements of technical SEO include Crawling, Indexing, rendering, and website structure.
What are the elements of Technical SEO?
The elements of technical SEO are;
Web Page speed
Structure of website
Mobile friendliness
Site maps
Robot.txt
What is meant by web Page speed?
The speed at which the data on website loads is known as webpage speed.
What is the Structure of the website?
The design of your website, as well as the way its pages are connected for a great user experience, are referred to as its website structure or website architecture.
What is the importance of Mobile friendliness in Technical SEO?
Mobile-friendliness shows how effectively a website has been created and designed to show on a mobile device, such as a smartphone or tablet.
What is meant by Site maps?
In site maps, you may explain the pages, videos, and other files on your website as well as the connections between them.
What is Robot.txt?
A method to prevent a web search engine from viewing  all or certain portions of a website are known as  robot.txt.
 The robots. txt, also known as the "robot exclusions protocol."
This article will help you for learning the basic of SEO. You can adopt SEO as a profession. Many SEO Agency are working successfully in market.