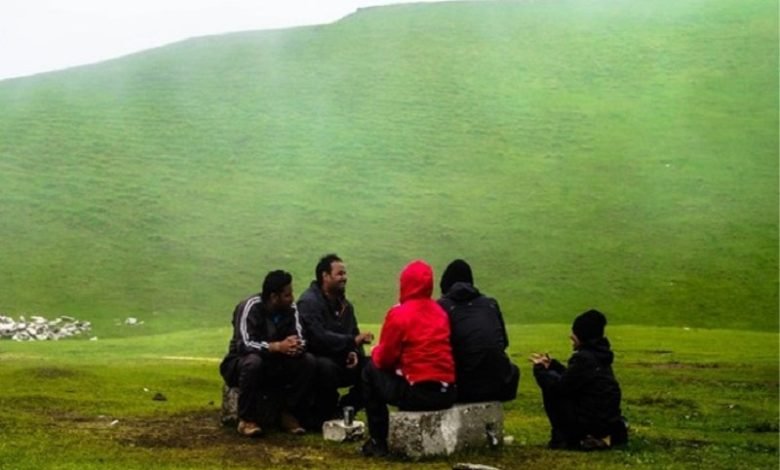 If you enjoy hiking and trekking but have not yet experienced the Roopkund trail, you need to make plans for it right now. It's a voyage that you simply must take.
Everything works in its favour. As you travel from 8,000 ft to 17,000 ft in 4 days, you will encounter deep virgin woods, bubbling brooks, breathtaking campsites, kilometres of undulating meadows, snow and ice, and the aroma of an exciting adventure.
Your trek begins at Lohajung (8,600 ft), a narrow pass that enters the Wan valley by squeezing through the Gwaldam face of the mountain.
The final stop for restocking is Lohajung. Although it is not a supermarket, you may find the typical vegetables like potatoes and onions there. Film even rolls. Stock up on supplies and reserve a room at the Moustache Escapes Hostel The caretaker, K S Danu, is accommodating and will set up a guide, porters, and mules for the hike as well.
The Patwal Tourist Lodge is a different accommodation choice. The Patwals treat you like family and the rooms are cleaner. The views are also fantastic. You can reserve a hotel over the phone in advance.
It's not hard to find porters, and they frequently hang out near the bus stop. Ask for Narendra specifically if you want a good guide who is helpful and takes good care of you. All phone numbers are provided beneath.
From Loharjung, a route leads to Raun Bagad, an iron bridge that is located beneath Didana hamlet, directly below the bus stop. This trail descends through mixed woodlands and is mark clearly.
Alternatively, take the route that takes you to Wan. To reach Kulling village and then descend to Raung Bagad, it takes 6 kilometres of easy walking.
Any route you choose is a wonderful method to stretch your hamstrings before beginning the ascent to Didana Village.
You may hear the delicate chirps of swallows among the rhododendrons and the thrushes' whistles all the way to Raun Bagad/Kulling. Below, the Wan River rushes to meet the Bedni Ganga. Lammergeiers, with their enormous wings spread wide to catch the eddies, may be seen seemingly emerging from the river's depths.
The yellow-throated marten can frequently be seen in this area. Martens have a bushy black tail, a head and back that is yellow and black, and a throat that is a deep canary yellow colour. Even though it moves awkwardly on the ground, it is an excellent climber. One was seen briefly crossing and recrossing our path. They are chased out by the locals with a pelt of stones since they are unpopular. Martens are skilled thieves and frequently take a hen from villages.
If you have followed the road's route, Kulling village suddenly appears around a bend (6 kms from Loharjung, 8,200 ft). A group of white buildings contrasted with the tiered hills' emerald green. There are no more than 20 residences in Kulling.
The Wan river is quite a fall from the Kulling village. You lose height, which you don't enjoy, because you know you'll eventually have to make up for it on the opposite bank.
The descent to the river is gentle and undetectable if you followed the track through the mixed forest.
After travelling for two hours from Loharjung, you arrive at an iron river bridge. This is Raun Bagad, a grassy riverbank that makes a nice spot for camping. If you arrive in Loharjung early and are seeking for a camp site that will allow you to get a head start, keep this in mind.
The moment you cross the river, the trail begins to climb. The ascent to Didna is zigzag. It's a moderate ascent, but your legs become tired soon. Your body rebels because you're not use it. You'll get to Didna in approximately an hour and a half if you take deep breaths. If you're not in shape, extend it to two.
Didana village might be a little perplexing due to the several trails that enter it. Follow the paths that circumnavigate the settlement; they will take you directly to the Didana camp site, a clearing 200 feet above the village.
A green pasture only ten minutes above the hamlet lies the Didna camp site. a perfect location with a nice brook descending to its right. The camping area looks out over the valley. Loharjung, Kulling, and Wan sweep from left to right.
Roopkund Trek facts:-
From Didna, there are two methods to get to Ali Bugyal. If you are looking across the valley (as in the photo), Tolpani, a collection of shepherd's huts 3 km distance and 1,000 ft higher, lies to your left. Moving away from Ali Bugyal's general direction is the Tolpani trail. After taking a sharp left turn at Tolpani, the trail crosses a mountainside high above the Didna camp and merges with the Ali trail.
Also Have a Look on- Kedarkantha Trek