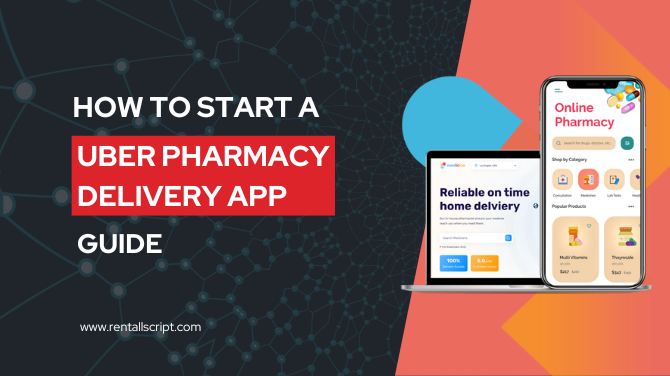 Recently, the Uber Model for pharmacy delivery has developed enormous popularity among users and has become one of the world's largest revenue return models.
The success of Uber is an inspiration to entrepreneurs, who wish to build their own on demand medicine delivery app in their respective cities and perhaps become the next big thing in the online delivery space.
Furthermore, the pharmaceutical business is all set to gear up to take a tremendous surge and will continue to flourish in the upcoming years.
So if you are an aspiring entrepreneur or a startup, then find out here how to build a uber pharmacy delivery app to distinguish yourself from your competitors.
How to develop a uber pharmacy delivery app
Developing a uber pharmacy delivery app entails a number of steps. Therefore,  you must create a unique selling proposition, competitor research, select a trustworthy app development firm, and then launch and market your app.
Do market analysis: Firstly, do market analysis through qualitative and quantitative assessment of the current pharmaceutical market
Business model and monetization strategy: Analyze medicine delivery business models like commission-based models and monetization strategies before launching your app.
Find a trusted app development company: It is a crucial step. Find the best on demand app development company by analyzing the reviews, portfolios, etc.
Decide your medicine delivery app functionality: Design and develop your uber pharmacy delivery app as per your business norms.
Test and launch a medicine delivery app: Once the development process is completed test your app and then launch it in the market.
Marketing your app: The final step is to market your medicine delivery app to the industry to generate revenue.
Basic function of medicine delivery app
There are various techniques for creating a medicine delivery app. In addition, depending on your business strategy and objectives, you may need to develop up to four distinct parts of the app. A typical pharmacy delivery app includes the following elements:
Customer app to order medicines
Delivery partner app to deliver ordered medicines
Web panel for pharmacies to receive orders from customer
Web panel for admin to manage all activities on the platform
Must-have features of medicine delivery app
Users
User registration
Smart search option for medicines
View/edit cart items
Upload prescriptions
Ask expert
Compare products
Real-time order tracking
Cancellation policy
Loyalty points
Push notifications
Payment options
For pharmacies
Registration
Information management
Listing their products
Ratings and reviews
Order management
Delivery and shipping
Discounts and offers
Delivery partner
Registration
Order management
Profile management
Order tracking
Order notes
Document verification
For admin
Dashboard
Monetization
Manage payments
Analytics
Marketing tools
Above all are the must-have and essential features on demand medicine delivery app you can include in your pharmacy businesses. In addition, add-ons are available to enhance your mobile app.
Final words
Now that the essential steps for an on-demand pharmacy delivery app have been defined, one can start an app development process.
In conclusion, WooberlyPharmacy is a ready-to-deploy uber pharmacy delivery app solution for startups to launch a feature-rich, intuitive, interactive pharmacy delivery app instantly.