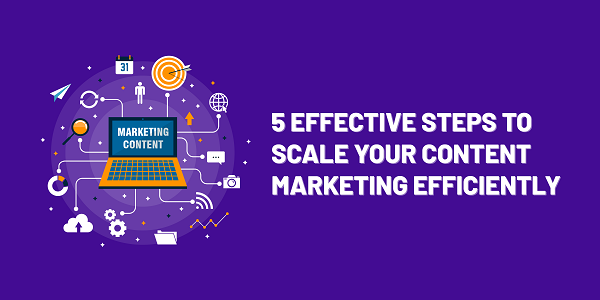 Content is everywhere on the Internet now. It is assumed that over two million posts as content bits are posted daily on Facebook, Instagram, Twitter, YouTube, and other social media. As a result, it is now a challenging task for marketers to find the marketing strategy that will help them stand out.
Notwithstanding these evident statistics, more than seventy-five per cent of the B2B and B2C marketers intend to design more content in 2019. However, it is an expensive and often confusing task to scale content marketing. Notably, more than sixty-five per cent of marketers are designing content without a well-documented content strategy.
Most marketers don't have a distinct approach to define success. To differentiate your content from others, you need the trilogy of proper tools, an efficient team and a decent degree of tolerance.
In this article, let's go through each in detail and how you can scale your content marketing for future brand success.
Aims of The Content Marketing Efforts
The only target of all brands is to get discovered by consumers. Most of them try adding an account to almost all channels and platforms out there. Still, keep in mind is that the key to success is a hard-earned one. Long term initiatives like content marketing are defined by several of the following:
The fundamental goal of your content marketing program

The success of your content marketing program and how you measure it

The resources and tools you plan to use
If you have a written plan and identify the keys to these questions, you are already leading in the game. As you know, the key to success is the ability to scale and prioritize the efforts that work.
Without effectively scaling your works, content is unlikely to show a positive investment return. However, with experience, I can also tell that scaling comes with its own set of obstacles.
Content Scaling for Websites and Online Stores
Adding content to websites and stores is very unlike adding them on social media. More than just writing something to attract viewers, the content should be relevant enough to detail the products or services they offer. You may have even included extra product addons or product swatches in the store. Still, a blend of appealing and descriptive content is always the topping on the cake.
Key Challenges to Scaling Content
New Channels: New Channels: Unendingly, you're met with the formation of more channels and platforms on the social media web each day. The question is where to start
New Competitions: From usual rivals, startups, scaleups, and even your shoppers
Low Efficiency: Designing tangible content for global businesses using new platforms by maintaining efficiency at scale is a hurdle for brands of any size.
Tools Can Help to Scale Your Content Marketing
Technology is the foundational entity for operational efficiency. Therefore, you should deviate from your way and start working with automated tools.
Entirely through the content marketing cycle, marketers adopt tools for automation, estimation, delivery, design, curation, and publishing. Automated tools also facilitate marketers to obtain real-time analytics for data-based decision making, thus keeping a flexible strategy.
The tool selection is the key as sixty-seven per cent of marketers cited measurement as the prime area in which they needed to invest.
The following tips can help you with your content marketing initiatives.
Choosing Your Content Marketing Tools
Concentrate on your exact demands and seek fathomable advancement from your current processes

Compose smooth integrations with current processes and a simplistic and user-friendly interface

Endeavour recognition from your team and get proper feedback from genuine users
Creating Special Teams to Collaborate and Win
Content creation is teamwork, where it demands the energy of teams inside and outside the company for both co-designing and delivery.
You can accept support and sponsoring content programs from superiors and establish common goals for collaboration. You can encourage and grow the employee ambassadors for both content co-design and delivery with proper communication and demonstration.
Parallelly, you'll be working with cross-functional teams in designing content that fords across the company yet is crucial for client engagement and experiences. That also unveils a broad possibility for innovation and collaboration with external stakeholders, including prospective clients in beta testers, concept generators, extended client support, etc.
Remember to render support, course, resources, coaching, and tools for collaboration between your teams to scale their efforts. Assist the team in collaborating and integrating various data systems, analytics, third-party tools, and all earned, paid and owned media types.
Finding a single platform, including all the details, isn't often that easy for marketers. Picking the best tool is a sweeping win in that aspect. Despite spending time on manual reporting and adding to your email queue, you can save time by making a quick chat with your team and the visual dashboards. Instead, you can invest your team's time in designing more pertinent and appropriate content.
Creating a Tolerant Culture in Engaging
To enable a content culture, a brand should enunciate the significance of content across the company. The collective goals and creative marketing strategy should be distributed and made accessible. It is also necessary to build a peril-free feedback culture that exhilarates creativity and content flows in every way. Performing employees in a culture of creativity inside a brand serve to be extra productive.