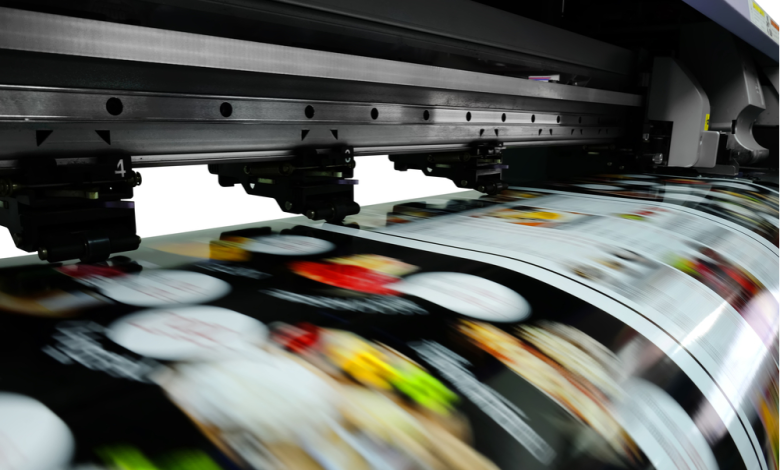 In this extremely competitive world, growing and succeeding as a business is definitely super challenging and uncertain. But one thing is for certain: no enterprise achieves success by chance. It requires a lot of knowledge, dedication and effort. That's true for print businesses as well.  
In order to grow your printing business and take it to another level, you need to know more than just basic technical details of print management.  
You must understand the market, your clients, and employees. You'll need to understand the qualities of a strong sales proposition, how to generate leads from it, and boost your sales.  
And most of all, you'll need to use web to print software solutions to save precious time and keep up with the competition. 
The printing business has undergone a lasting transformation with the advent of digital printing and its widespread use. Digital mediums have started gaining a lot of popularity because of changing customer preferences and increase in internet usage and smartphones.  
And hence, web to print solutions are the best way to grow your print business in this era of digital dependency.  
What are web to print software solutions?
Web to print software is a platform that lets you to advertise printing goods and services online through an e-commerce storefront. It is also referred to as W2P, an online printing company strategy, or print e-commerce solution. The services are open to both organizations and individuals, however businesses looking to develop a variety of marketing materials use them the most frequently. 
These software solutions provide you an easy way to get your products out into the world fast and helps your print business reach its maximum potential in no time. 
Web to print firms offer online tools that make it simple to create and order standardized sales and marketing materials for your company.  
It has an integrated, precise estimating system, a simple catalogue that can be extended, changed, and designed to meet any print business requirements, as well as product browsing. 
 In simpler terms, it is print order management software with integrated digital asset management capabilities for your print solutions. You can create online shops for your print products and exhibit them on the same platform. 
Mentioned below are 10 ways web to print software solutions can help you grow your printing business.  
1. By streamlining order management
Web to print software has feature-rich modules and add-ons that can handle the printing needs of each department while coordinating with the other departments. This connectivity facilitates inter-departmental communication, speeds up processing, and reduces delivery time. 
2. By automating production workflow
If you wish to grow your printing business in this fast-paced world, you need to decrease your reliance on manual effort to boost productivity and cut overheads as much as you can. Print workflow automation unquestionably the best way to do so. 
You can keep track of all the printing operations from beginning to end with the aid of print workflow automation. You won't need to run around to several departments looking for order updates.  
 It offers you a specific section where you can track every order pertaining to various departments so that you can understand its status and always keep your customers informed. These processes keep track of data from the moment an order is placed until the finished goods are delivered. 
3. By providing an ease of usage
Web to print software enables straightforward operations and user-friendliness for both the administrator and the customer. The customer can approve unique designs or upload ready designs before they are printed, preventing any misunderstanding as they have already been proofed and printed. 
4. By speeding up order processing
Regardless of the size of the order, the traditional printing procedure takes a long time, whereas web to print simply needs a few steps. You can lower your overall cost and save a lot of time by skipping a few of the customary processes. Customers can select a template that fits their needs and goals for their businesses, fill it up, and receive a printout right away.
The standard approval procedure is removed and turnaround time is greatly decreased by producing pre-approved print on demand. Additionally, it offers consumers instantaneous online quotations for various templates. The anticipated cost of printed items is also automated by taking into account intricate finishing, shipping, and other client demands. 
5. By increasing sales volume
The likelihood that customers will return is higher when they are satisfied. You can give each and every one of your customers the greatest experience possible using web2print software. You achieve 100% client satisfaction and progressively raise your sales volume with the automation and control of the online to print solution.
Web to print software solutions foster long-lasting partnerships since they benefit users and increase in value over time. Of course, a happy consumer wouldn't look for their print supplier anywhere else. 
6. By maintaining brand consistency
Meeting industry standards consistently, standing out, achieving high customer satisfaction, and effective marketing are necessary for developing a strong brand. Web-to-print technology can be super helpful in this situation. The solution effectively accomplishes its goals and offers a distinctive website layout and design as well as a customized brand template. 
 7.
By making way for customizations and integrations
Being a cloud-based solution, web to print software solutions offers an effective platform for customizing the readily available solution and adding numerous third-party integrations with the aid of API technology, making it a practical and adaptable solution with business-specific workflows.     
8. By saving Costs
Being a cloud-based solution, web to print solutions don't need any hardware installation or any labor-intensive process to get started and hence, it helps you save costs. Also, it helps you cut down on manual labor and overheads by using automated processes to manage everything from start to end.  
9. By providing easy accessibility
Another way web to print solution benefits your business by easy providing accessibility to clients. Customers now don't need to go visit a physical printing store in order to get their work done, all they have to do is to pick up their phones, talk through the web or mobile to print and place an order from the comfort of their offices or homes.               
10. By improving customer service
Web to print software make the ordering process the most user-friendly while offering immediate access. When a product's design changes, customers just need to visit the website to edit existing orders and place new ones. One may simply track the development of their order on a web to print storefront. These shops also give customers the freedom to change the amount, shipment addresses, and delivery dates. 
Conclusion
In today's competitive market, you need to be one step ahead of your competitors if you want to grow your printing business. And web to print software can be the solution for you.  The ability to offer web-to-print services has become crucial to the printing business. This makes way for online printers to save costs, streamline production, and improve overall performance. Therefore, it is safe to say that in this modern technological era, web to print software solutions have become indispensable for printing business.