Education
What Online Examination Software a Much-Needed gradually Tool For the Education?
What Online Examination Software a Much-Needed gradually Tool For the Education?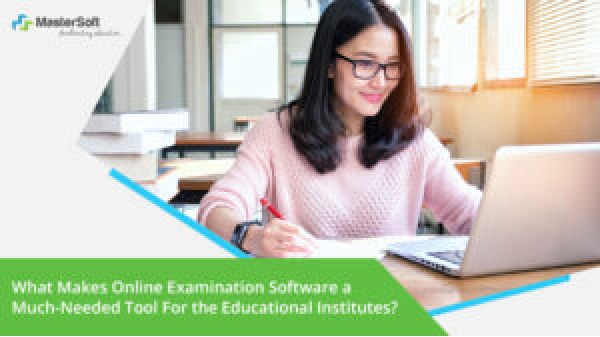 ''Change leads to success'' is a quote that has proved to be true throughout history. However, the most recent example we can recall is the adjustments we made in the past couple of years. For instance, most organisations continued their operations remotely; the education sector strived to function efficiently despite all odds. 
Schools and colleges gradually established an efficient online classroom system, and teachers adopted unique approaches to instruction. First, they had to utilise the scheduled time for teaching students only the necessary core topics. They implemented pedagogical strategies in sync with multimedia tools to engage students and increase online participation.
However, institutes face the most major challenges when it comes to conducting remote examinations. Moreover, ensuring the authenticity of online examinations is still a prevalent problem and people still question their validity or integrity. Besides, it's all thanks to the online examination software that helps to carry out a hassle-free and credible test. 
Find out Why Online Examination Software has become a Necessary Tool for Institutes.
What is an Invigilator? An invigilator is an authoritative person that the institute appoints to observe students throughout the examination. Besides, they are responsible for maintaining the essential decorum within the exam hall; so, if any examinee practices any unethical activities like cheating, the invigilator reprimands them by taking disciplinary actions. 
But no authoritative figures are physically present during online tests, giving students a chance to cheat. Besides, it has been one of the common problems that institutes have managed to eliminate through proctoring software. The software is a remote invigilator wherein it tracks students' activities during the examination period.
Moreover, features including audio, visual recording, and movement tracking monitor students and raises automatic alerts in case of suspicious activities. Also, remote examiners sitting at their homes or institutes can check students through the above-mentioned features. 
Guaranteed Exam Data Security 
We've all heard the news of question paper leaks a few days ahead of the exam or theft of answer sheets. However, institutes and teachers can be relieved when developing exam questions through the software. Also, they do not need to worry about them getting stolen or misplaced. 
Besides, after completing the examination, teachers or examiners don't need to keep the answers sheets in a safe location manually. Because the software locates the answers automatically on the server and is accessible through authorised access. As a result, the faculty and administration can organise exam-related information smoothly. Also, the security features reduce the chances of any unwarranted access by people with malicious intent. 
Automated Results Delivery 
Teachers must set aside additional time to write and prepare questions, whereas the admin department is responsible for organising the entire exam. Besides, conducting the traditional examinations takes an extended period of effort and teamwork. On the other hand, the most significant advantage of adopting an online assessment system is the automated mechanism. 
Consequently, the software takes care of all the steps smoothly; faculties don't need to spend time on repetitive tasks, eliminating administrative overload. Moreover, the former can design the questions online and check them virtually; the software has an auto-check feature that lets one check the answers quickly. 
Therefore, we don't have to wait for results long; we can check them instantly with a mouse click. 
Elaborate Analysis and Reporting 
Can teachers evaluate a student's thought process and understanding levels through paper-based examinations? They can assess a particular student's subject knowledge and concept understanding but not other vital aspects. In contrast, faculties can assess learners' progress levels and skills through the software's in-built analytic features. 
Also, it generates accurate reports based on individual performances, which teachers can use to design personalised learning plans. So, the software directly aids faculties in enhancing the student's learning process. 
In the traditional examination system, students typically need to wait till they get the exam results to understand their shortcomings. Similarly, teachers gain an understanding of students' progress while checking the answer sheets and preparing the results. Meanwhile, the software enables the former to get instant teacher feedback via the tool.
Online examination software has various voice, text and video-enabled feedback system that helps to provide constructive feedback. Hence, instructors can inform students about the areas where they still need improvement and encourage them accordingly. 
In Conclusion, 
The relevance of online assessment systems in today's scenario is undeniably significant because it helps institutes to establish a comprehensive evaluation ecosystem. Moreover, it allows them to assess the skills and track the overall progress of individual students. 
10 Hacks That Can Quickly Make Your Moving Process Successful