Business
What Are New Features In Gojek Clone Kingx 2022 App?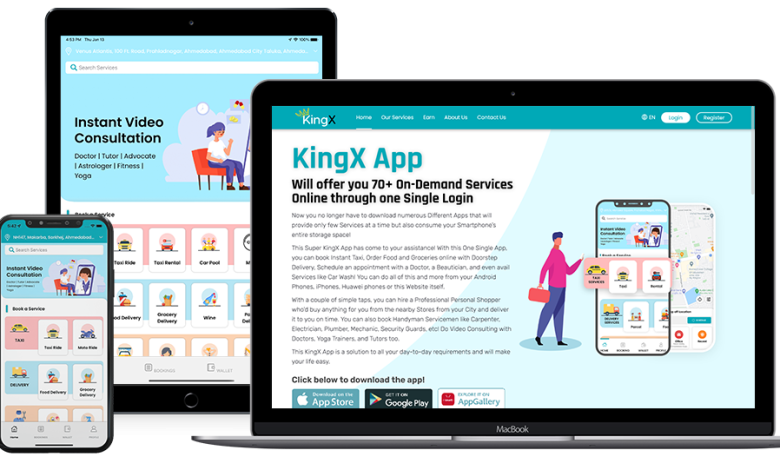 The Big Brother of the On-Demand Multi-Services Gojek Clone is a Stellar Combination of Wit and Vision. This App alone offers 70+ Life-Enriching Services through its Digital Platform to Millions of its Users. All that the Users have to do is first Register with the KINGX 2022. They can do so by either punching in their Mobile Numbers or using their Social Media Accounts such as that of Gmail and Facebook.
VALUE-DRIVEN SERVICES OF GOJEK LIKE APP
 Book Instant Taxi Rides, Take Cabs and Moto Rides on Rent, Order Food, Groceries, Medicines, Flowers, Stationeries Online with Doorstep Delivery! 
POWERFUL GOJEK LIKE APP: NEW ASTONISHING FEATURES
ONLINE VIDEO CONSULTATION
The Users can now Book Instant Online Video Consultation Sessions with Doctors, Personal Academic Tutors, Yoga Instructors & Fitness Coaches, Lawyers, Psychiatrists and even Astrologers. ONLY Credit Cards are accepted to avail the Benefits of this Feature. That is why, money gets automatically deducted from the Users' Credit Card after the Session Ends.
Users of this All-In-One-Services App can also schedule the Online Video Session for a Later Date and Time!
SERVICE BIDDING/POST A TASK
The Users now have the luxury to Negotiate Service Charges with Handymen like Electricians, Plumbers using this App like Gojek! The User can Post Task Details for the Service Required on the Mobile App and wait for the Service Providers to Place their Bids.
But First, they have to fill out a Form! They need to enter essential Details regarding the Task Requested such as Task Category, Service Location, Budget, Specific Details. About the Task Requested, Preferred Date and Time.
Once they click on the "POST" Button, the User immediately gets a Pop-Up Notification that the Task Request has been successfully Posted. And that an Invitation is sent to all the relevant Handymen of the Locality.
REVENUE SOURCE FOR GOJEK CLONE 
Yes, this App has now empowered Entrepreneurs like you to generate a Stable of Income via Advertisement Revenue! You can allow Tech Giants like Google and Facebook to post their Ads on your App. To attract new Customers and Increase their Digital Presence. It is a Win-Win Situation because you get paid for Posting these Ads on your Platform.
Even the Individual Service Providers or Stores Registered with the KINGX 2022 App can pay the Admin to Promote their Services/Products on the App itself. These Ads will Pop-Up on the Landing Screen of the User App so that that is the first thing they see when they log into the App.
VIDEO CALL THE TAXI DRIVER INSTEAD!
Earlier, the User and the Taxi Driver/Delivery Driver had to resort to Text Messages and Phone Call to Communicate with each other. But now, they can even place a Video Call through the App.
CONCLUSION: 
The Gojek Clone App will open the Gates of Fortune for Smart-Witted Entrepreneurs like you! You can go on to become the First Millionaire of your Family! The Question here is, do you have that Entrepreneurial Gene in you? Do you want to be the Most Successful Entrepreneur of the year 2022? get in touch with us.