Internet and Businesses
Top Reasons Why Your Facebook Ads Are Not Delivering & How to Deal with It
Here are the prominent reasons your Facebook ads are not performing and some actionable tips to optimize each reason and boost your ads performance.
Are you new to Facebook ads? You created some ads on Facebook, but those aren't performing up to the mark. There can be various reasons that can make your Facebook ad campaigns underperform. 
Here are the prominent reasons your Facebook ads are not performing and some actionable tips to optimize each reason and boost your ads' performance.
1. Disapproved Ads
Facebook has a guideline for Ads, and any violation gets your ads disapproved. Disapproved ads won't appear in front of anybody, so there will be no impressions or clicks on your ads. 
The quantity of text that can be included in an image is limited. Each ad creative can only include 20% text in a picture; else, impressions will be reduced or turned off entirely. 
Advertisers are also restricted from targeting specific demographics such as age, politics, housing, dating, and so on. Each of these is a protected category that requires further clarification or restrictions to ensure that the platform is free of prejudice.
In certain rare situations, your ad may be marked for these offenses even though you are not in violation. In an effort to be proactive, Facebook may occasionally automatically reject ads that are close to the line. 
How to Deal
You may edit your existing ads or create new ones according to the reasons for your ad disapproval. Make the changes and resubmit for review. 
If you believe your ad shouldn't get rejected and you meet all guidelines, you can appeal the decision using Facebook's Request Review form. It may take some time, but most of the legit requests get approval.
2. Small Audience
While laser-targeting your ads help you avoid wasting money on those who aren't interested, confining your ads to an incredibly small audience set may result in your ads not delivering at all. Advertisers must have a minimum of 1,000 users in their target demographic on Facebook. 
How to Deal
Allow the Facebook Pixel to collect some data before launching your retargeting campaign to avoid an audience that is too limited. Use Lookalike Audiences for prospecting and targeting new audiences. You should add more behaviors and interests to expand your audience. Moreover, try updating your geotargeting to reach a new relevant audience. 
3. Low Engagement in Ads
Facebook owes it to its users to provide an interesting and exciting environment. Ads with little/no engagement or terrible engagement aren't aired as frequently as those with a lot of good involvement in ad campaigns.
Below factors are used to scale the quality of your ads.

These Facebook ad relevance signals tell you how your ads will perform. Ad campaigns with 'Below average" or "Average" have scope for improvement, and you can have a better performance with proper optimization.
How to Deal
Here is a chart of optimization recommendations for various combinations of ad relevance diagnostics to optimize your ads and get them to perform better.
4. Highly Restrictive Bid or Budget Parameters
One of the most common reasons behind your not delivering ads. Your audience targeting informs Facebook's ad delivery algorithm about the people you want to see your ad. The algorithm then targets a segment of that audience that is most likely to do the desired action with your ad.
Based on the ad's performance, the system determines the best delivery time. Still, if you set your budget too low, your ad will be delivered to such a small audience that the algorithm won't be able to gather statistically meaningful data and learn from it. Due to a lack of data and learning, your ads won't show up and perform up to the mark.  
How to Deal
Set a high enough budget and bid to give the system enough time to learn and deliver your ads effectively. Moreover, instead of setting daily budgets, consider creating a lifetime budget. This allows Facebook to spend your budget as it deems fit and distribute it throughout the duration of your campaign or ad package.
You should also consider starting with the lowest-cost bid method through automatic bidding, which helps you get the best outcomes for the least amount of money. This method assures that your bid price is never too low. 
Hereafter, you can modify your bids based on the initial performance data. 
5. Unavailability of Ad Post
It's possible that the Facebook post related to your ad has been taken down or that you no longer have the authorization to see it. You could also be promoting content that can't be promoted through an ad. It's possible that your ad contains an offer or event that has expired or ended. There is a restriction that shared posts can't be boosted by anybody other than the original post's owner.
How to Deal
If you don't have rights, then get permission from the account's Admin or Editor. You can take a different post for your ad. Check and know the availability of the products you are promoting. You can't advertise the out-of-stock and deleted products. 
6. Spending Limit Reached
A spending limit on your account can help ensure that you don't spend more money on your campaign than you planned. It's easy to forget about the restriction even after you've established it. Once the limit is reached, Facebook will no longer display your ads.
How to Deal
To run your ads again, you may reset, change, or get rid of the spending limit.
7. Ads Under Review
Facebook's staff reviews each ad to ensure that it complies with its advertising policy and terms of service. Facebook reviews the ads using a combination of Facebook's automated review systems and manual reviews conducted by Facebook's support team. Most ads get reviews in 24 hours, but in some cases, it may take longer. So, it's possible that your ad is stuck in the review process. 
How to Deal
You should plan and schedule your ad posts ahead of time. Select a start and finish date in the Budget and Schedule part of the ad creation process. If your ad needs to be sent to Facebook's team for manual approval, you'll get some. Furthermore, don't make any modifications to your advertisements until the approval procedure is complete since this will restart the review process.
8. Audience Overlapping
When your campaign's ad sets have almost identical audiences, Facebook tries to keep your ads from competing during the ad auction. Hence, overlapping reduces the chances of your ads appearing to your target audience.
How to Deal
Follow the below steps in Facebook's Audience Overlap tool to check and optimize the audience overlap. 
Go to Audiences, 
Check the boxes next to the audience to compare them. You can compare up to 5 audiences. 
Now, click actions and select Show Audience Overlap.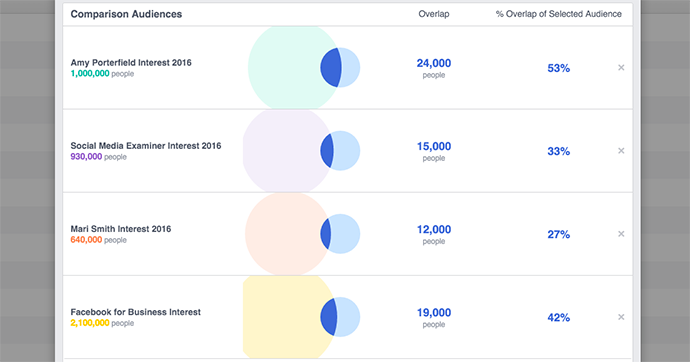 9. Scheduling Issues
Facebook will only display your ads during the times you set, but there are a few scheduling concerns that could prevent your ad from showing. 
Like your campaign is set to start in the future, the end date is gone, or your ad, ad set, or campaign is on pause.
How to Deal
Edit your ad schedule if your campaign is intended to run in the future, but you want to start it now. Set a new end date if the previous one has expired. If your campaign is on pause, restart it. 
10. Unrealistic Optimization Goals
By choosing an optimization objective, you're telling Facebook what action you want your audience to take, which allows Facebook to target them more precisely. When it comes to narrowing down your audience, choosing the right optimization target is critical. When you optimize for conversions, though, delivery concerns are more likely to arise.
This is because Facebook uses that metric to determine suitable targets when you optimize for conversions. However, without any conversions, there isn't enough data to work with, and it can't show the interested people in your ad campaign. 
How to Deal
Modify the optimization target from conversions to link clicks. Facebook will track your conversions in this fashion, but it will be able to see who has in your advertisements based on who has clicked. After that, once you've established a steady stream of conversions, you may modify the target back to conversions. Facebook suggests 50 conversions per week.
11. Bad Post-Click Landing Page Experience
It's just as crucial to obtain the click as it is to get the landing page. This is why, during the approval process, Facebook crawls post-click pages.
How to Deal
Make sure your dedicated post-click landing page has a message that matches the ad exactly and doesn't contain duplicate content, abusive interstitials, misleading experiences, adult and controversial content, and high bounce rates. 
These are some of the common reasons that your Facebook ads are not delivering. Now, you have to find which ones are affecting you and optimize them quickly. You can also hire a Facebook ads agency to run your Facebook ads at maximum efficiency and drive the best ROI.
Read More: Online Reputation Management Trends To Follow In 2022