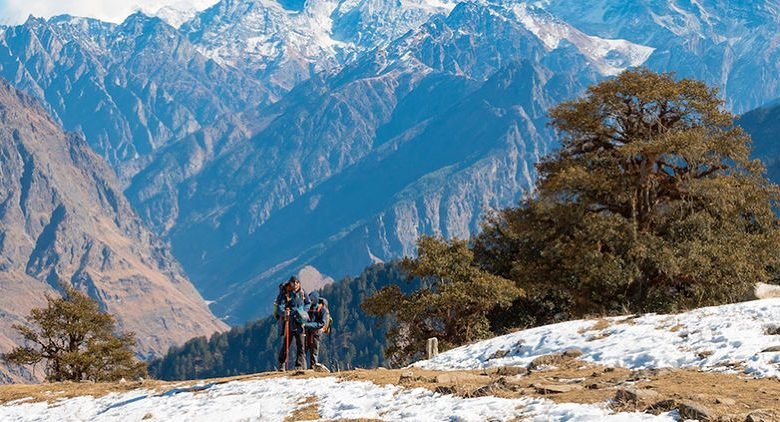 Overview
One is the most engrossing trekking trail amidst the Indian Himalayan region, the Kuari pass trek attracts thousands of adventure lovers from all across the globe. This fascinating trek is believed to have been explored by Lord Curzon. Hence it is popularly called Lord Curzon trek. It is nestled beautifully in the Garhwal Himalayas range. This trek is located a short distance from Auli which is a beautiful skiing destination.
The Kuari Pass trek is almost 4 to 6 days long easy to moderate level trek commences from Tapovan which is a quaint village near Joshimath that is a hub for pilgrims and trekkers. In this trek, you will witness the mesmerising views of the mighty mountain peaks such as Dronagiri, Chaukhamba, Chitrakahntha, and tali top. Also, the trek goes through the thick dense forests of conifer, oak, rhododendron, and birch. Hence this trek offers you an opportunity to witness exotic wildlife experiences like Himalayan Black bears, leopard pugmarks. The magnificent views of River Bhagirathi and Alaknanda can also be witnessed on this trek.
Location of Kuari Pass Trek
The location of this beautifully nestled place is the hugely spread Nanda Devi Biosphere reserve, the trek happens to be one of the most trekking destinations in India, where adventurers from far across the world come. Kuari pass is in the lap of gorgeous regions of the Garhwal Himalayas and is reckoned for its exquisite wild grandeur. 
Why one should plan Kuari Pass Trek
At Kuari pass every climb, a unique hue of the scenic thing unfolds in front of your eyes ranging from the colourful meadows, rosy rhododendrons to the glimmering lakes. This trek offers eye-catching views of the impressive mountain peaks. 
At the same time equally popular among trekkers, this winter trek offers a mesmerising scenic charm when the meadows are enveloped with thick sheets of snow and glimmering frozen lakes.
How to Reach
To reach Kuari pass Haridwar is considered to be the nearest accessible destination to this exciting trek. Keep scrolling down the pages to know in detail about how to reach the Kuari pass trek.
By Air
For those who want to fly towards KuarI pass for them, Jolly Grant Airport in Dehradun is the nearest option and is connected to major cities. 
By Train
If you opt for the train option then Haridwar city has its railway station. It is well connected with other big cities of India, especially Delhi. You can also reach Rishikesh Railway station if the tickets are not available for Haridwar.
By Road
If planning to come by road then Haridwar by bus is the very easiest option. One can get a bus as regular buses are plying between Haridwar and Delhi. The city is connected well with other cities also like Chandigarh, Nainital, Dehradun through well-connected roads.
Best time to plan Kuari Pass Trek
In Summer
The most ideal time to visit the Kuari pass is in summer, which starts from April and continues till June. The pleasing climatic condition makes the trek more enjoyable and hassle-free. In the daytime, it is very warm but by the evening the temperature starts dropping down and it becomes difficult to wear summer clothes.
In Monsoon
Monsoon is also a good season to visit this place. The route becomes too slippery and challenging for the trekkers.
In Winter
It will be a little bit harsh in winters as the temperature lowers down too much. However, it is quite difficult for beginners to climb up the hilly areas in this season. Also, carry heavy woollen clothes and shoes.
Tips and Tricks
Check out the below-mentioned points to stay fit, fine, and to be secure on this trek.
A trekker needs to pack his/her medication in the baggage as you hardly find any medical shop at such altitudes.

Carry a good pair of trekking shoes that fits you and has a proper hold as walking uncomfortably on mountains will hamper your overall journey.

Maintain the cleanliness of the Himalayan region by not littering garbage here and there.

Do remember to pack trekking pants, windproof jackets, warm and thick fleece, socks, thermal innerwear, sweaters, woollen gloves, and other essential clothing items.

You need to be both physically as well as mentally fit and healthy while visiting a new place. Therefore, we advise you to plan this trek only if you are physically fit and have a great state of mind.