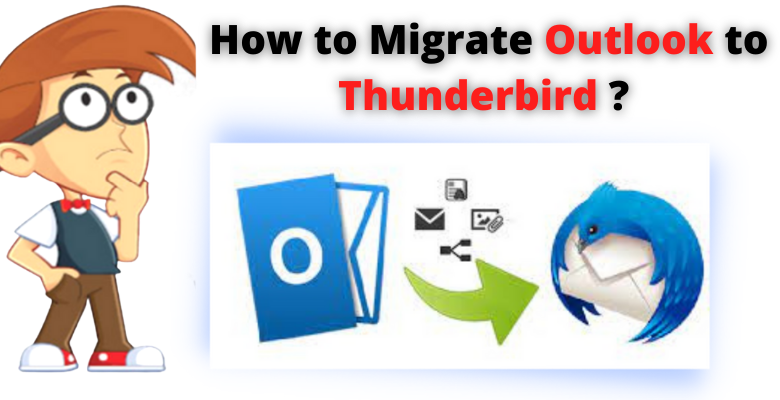 Businesshear | In this article, we are going to discuss how to migrate Outlook to Thunderbird in bulk. So, learn the complete way to transfer Outlook to Thunderbird using manual & automated methods.
Outlook and Mozilla Thunderbird are the best email clients at this time. However, if you need to change your email client based on many circumstances and preferences. And, generally users migrate Outlook mailbox to Thunderbird because their professional organization wants them to do so. Therefore, the process is to import Outlook emails to Thunderbird which becomes difficult for both email services to support different file formats.
On account of the emails being the most important part of the communication, this migration needs to be done carefully. If any single attribute is compromised, then you might face some difficulty in transferring Outlook mail to Thunderbird.
Why User Needs to Import Outlook Emails to Thunderbird?
There are many reasons why users want to migrate Outlook emails to Thunderbird on a new computer. The Mozilla Thunderbird comes as an open-source app for the personal information manager and it is simpler to install Thunderbird on the system than to Microsoft Outlook.
Therefore, the Thunderbird is a cross-platform desktop application which is easy to access on Windows, Mac, Linux OS. On the other hand, Outlook is not a cross-platform, it is a paid service. These are the biggest reasons for importing emails from Outlook to Thunderbird.
How to Transfer Outlook Emails to Thunderbird Manually?
The manual method is used when users have to import data between Outlook and Thunderbird located on the same system. Let us take a look for the same step by step:-
First, click on the Start button from the Windows OS>> Default Programs and then click on Set your default program.
Now, select Outlook from the appeared list and hit Set this program as a default option. After that, Outlook will become the default email client of the system.
Then, launch Mozilla Thunderbird on the same machine and navigate the Tools>>Import to move emails from Outlook to Thunderbird.
In the next window, select the radio button corresponding to Mail option and click on Next button to proceed further.
Now, choose Outlook from the next wizard and hit on Next followed by clicking the Finish button.
And, if you want to export any other components of MS Outlook application, then repeat the same process. For instance, choose the Address Book option in the place of Mail to import PST to Thunderbird profile.
You have opened the Default Programs window again. Now, make Thunderbird as your default email of this system.
Drawbacks of Manual Method
As you yourself feel how long a manual solution is and how tedious it can be. The Manual techniques to migrate Outlook to Thunderbird are also unreliable and unsafe. Your one mistake will lose all your previous data forever. But don't worry, we have explained the best automated solution in the next section.
Also, Microsoft Outlook is available in different versions like Outlook 2010, 2013, 2016, 2019, and so on. So, the email transfer process may be different. Therefore, it overcomes such situations in just a move which is mentioned-below to migrate emails from Outlook to Thunderbird.
Migrate Multiple Outlook Emails into Thunderbird – Automated Solution
As we have already discussed the manual method in the above section, it is very difficult and confusing for non-technical users. Users may have difficulty while transferring emails from Outlook to Thunderbird. So, it is better to go with an automated tool like Outlook PST File Conversion through which users can easily transfer Outlook mail to Thunderbird without any trouble. Here are some features also for the same.
It graphically provides the user interface to give the user a complete experience.
There is no limitation on the file size and number of the PST files to export.
Users can easily import bulk emails from Outlook to Thunderbird.
It is compatible with all the versions of Windows.
This tool is available on Windows platforms.
There is an option to read ANSI and UNICODE PST files.
Steps to Import Outlook Emails to Thunderbird via MBOX
Following are the steps to migrate multiple Microsoft Outlook into Mozilla Thunderbird without losing any information. Let us go with step by step:-
Launch and install the software and Add Outlook PST file.
Now, Pick MBOX from the multiple saving file formats.
Then, click on the Advanced Settings and Apply a date filter for selective conversion.
After that, click on the Export button and the process will be starting automatically.
The Verge
In this blog, we have explained various methods to migrate Outlook to Thunderbird. Users can go for any of the solutions based on their requirements. But, it is highly recommended to use the automated solution. As it is simple and easy to transfer emails from Outlook to Thunderbird. If you are facing any problem while importing multiple Outlook emails to Mozilla Thunderbird then go with this above article for better information.