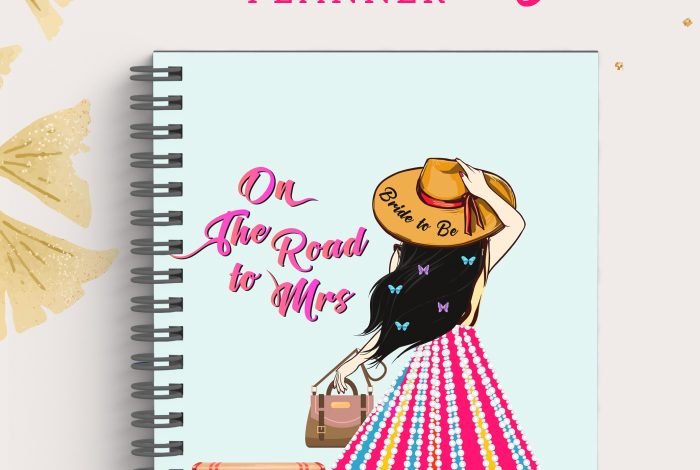 Perfect wedding planning takes blood, sweat and tears.  Everyone dreams of a fairytale wedding and while the thought of a beautiful wedding brings a smile, planning it to T is a crazy ride. With so much to do, from scouting venues to choosing the perfect outfit, it gets overwhelming.  The most essential item that you must possess before starting the wedding planning is The Wedding Planning Journal or Bridal Journal.
So what's a Wedding Journal?
Wedding Journal also known as the Bridal Planner, is a diary that helps you keep organized throughout the process of wedding planning. It's not your regular notebook, but a notebook of sorts that helps organize the crucial and important information in one place. There are plenty of wedding planner books to choose from with tons of information. Scrapbook formats that let you paste your inspirations, the ones with well-defined sections for each segment.
Here are the lists of sections that Wedding planning Journals contain:
Wedding Planning  Timeline 
The most confusing thing about wedding planning is where to start and when. A wedding journal will have a timeline of things to do and when to do precisely laid out for you to refer.
Knowing when to do what helps in keeping you organized and definitely keep FOMO at bay.
When looking for ideas, we tend to come across many and forget to bookmark them. You can take a print of those ideas and paste them onto your inspiration boards. It's a good way to look and imagine the feel of your wedding day and helps in clearing out the mind. Inspiration boards help put together your wedding vision and then you can begin to put the pieces of the wedding puzzle together to bring it to life.
Weddings are a costly affair & expenses can go haywire if not budgeted correctly. Writing down even the minutest things along with the allocated budget for the item is the key to keeping things under control. Preparing an extensive budget lets you keep track and adjust the fluctuations if any.
Let's be honest, everyone is guilty of forgetting crucial tasks.  When it comes to weddings there is so much too that you tend to forget easily. To–do lists come to the rescue, write down your list of tasks and refer to them every day so that you don't miss out on anything.
Weddings can be one-day affairs to seven-day celebratory affairs too. Each event needs to be planned from floral arrangements to outfits. Preparing a vision board for each event and then finalizing each event's details in one book is essential. A bridal Planner diary comes in very handily for these elaborate events. 
Some Wedding journals also come with cute stickers, you can make the most of these cute little things to mark important things and express how you feeling.
What should you look for in a Bridal Journal?
Like they say don't judge a book by its cover applies to journals too. Here's what to look for in a Wedding Journal.
The number of sections in the planner and what sections are provided.

The number of pages: Look for something that has a good number of pages so that you can fit in as much info as needed.  Not very bulky too so a comfortable range will be 100 Pages to 150 pages 

The size of the book: A wedding journal should be like a reference book. Something that you can carry along to jot down ideas and inspiration.  Find a planner that is comfortable to carry in your handbag so that you can take down notes while shopping.
When to shop for Wedding Journal
There is no definite answer since we start looking for ideas way before even the wedding is fixed. So when you start thinking of getting hitched, you should probably get one.
Wedding Journal is must have to keep you well organized and not turn into a bridezilla.  The best perk of investing in one will be a keepsake memory.  What's better than to walk down memory lane years later to relive the wedding planning phase?