Travel
Best Brunch in Boston
The Best Places For Brunch in Boston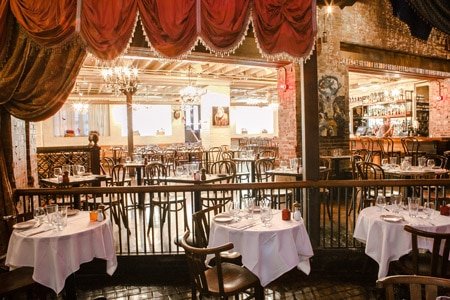 Best Brunch in Boston
If you're looking for the best brunch in Boston, you've come to the right place. From brioche rolls to chicken & waffles to cocktails, Boston has some of the best brunch venues around. In this article, we'll highlight some of our favorites. But there are so many more great brunch spots around the city, so be sure to check out all of them for your next brunch.
Buttermilk & Bourbon
Buttermilk & Bourbon is a new brunch venue in the Back Bay. Open for lunch and dinner daily, this upscale American restaurant draws on the flavor of the South for an innovative American menu. Chef Jason Santos is an accomplished chef who owns several successful Boston restaurants, and his passion for all things southern has translated into his menu.
The menu offers classic dishes as well as innovative spins on regional favorites. Signature dishes include buttermilk biscuit and gravy with house-made sausage and smoked fontina gravy. You can also try the blackened bloody Mary with okra-infused vodka, Cajun shrimp, and pickled green beans.
The restaurant has an extensive a la carte menu, but the main courses range from $7 to $22 depending on the dish. You can choose sides for $2.50 each, and the full-service menu is available from 9 am to 3 pm. The a la carte menu offers several alcoholic drinks and is complemented by a full oyster bar.
Table
If you're looking for a casual, laid-back place to grab brunch, try Table in Boston's North End. It offers a relaxed and intimate atmosphere that showcases classic Italian dishes and delicious Italian wines. There are several specialties on the brunch menu, including fried dough, omelet tacos, and chicken and waffles.
Brunch is the most important meal of the day and Boston has plenty of places that offer it. From the traditional eggs Benedict and donuts to more inventive options like baklava pancakes and hefty breakfast totchos, there's a brunch to please every palate in Boston.
Breakfast Club has been in Boston for fifteen years and has won awards for its brunch menu. It is located near the Seaport and features dim lighting and a vinyl-upholstered dining room. The menu includes classic breakfast favorites such as corned beef hash. If you're craving something a little more sophisticated, you can choose a table at the adjacent Breakfast Club.
In addition to a stuffed French toast, a smoked whitefish pizza and an oyster bar are two of the most popular brunch dishes at the Standard. The full lunch menu is also available. On Fridays, the restaurant hosts Brunch Test Kitchen where chefs experiment with new dishes.
The Buttery
If you are looking for a fun weekend brunch, try The Buttery in South End. Featuring fresh ingredients, the menu includes classic dishes with contemporary twists. You can order everything from eggs Benedict to a Buttery rum punch. You can even grab a table outdoors, which is great if you want to avoid crowds. Reservations are required, however, so be sure to plan your visit accordingly.
The Buttery Cafe is a neighborhood bakery/café by day and a full-service restaurant by night. It is known for its award-winning dishes. The food is made from simple, yet high-quality ingredients and the prices are more than reasonable. The menu includes classic comfort food as well as dishes geared toward health-conscious diners. There is also an affordable wine and beer selection.
Mike and Patty's
If you're looking for a great place to have brunch in Boston, Mike and Patty's might be just the place. The menu includes a variety of breakfast sandwiches, as well as some unique additions. The menu is centered on the sandwich, with some of the options including bacon, avocado, cheddar, red onions, and house mayo.
The restaurant is located in Bay Village, a neighborhood in Boston. It features breakfast sandwiches made with farm-to-table ingredients. The owners, Mike Gurevich, and Ania Zaroda are a husband and wife team. Despite its location in a quiet neighborhood, Mike and Patty's has quickly become a popular spot.
The first Mike and Patty outpost opened in Bay Village in 2008 and has since expanded to Bow Market in Somerville. The owners of this restaurant previously operated a restaurant in Somerville called Hot Box. This new location serves breakfast and lunch. The restaurant is open daily from 8 a.m. to 1:30 p.m., and also accepts reservations for outdoor seating.
Moonshine 152
If you're looking for a casual spot in Boston for brunch, then Moonshine 152 is the place for you. You'll find delicious pancakes with pure maple syrup, delicious waffles, and a friendly atmosphere here. The menu changes seasonally, and Chef Asia Mei focuses on local, sustainable East Coast ingredients and street food. The restaurant offers a cozy atmosphere and plenty of outdoor seating.
The restaurant is located on the ground floor of a luxury residential building, near a busy intersection. The interior is dark and romantic, with a bar on the left side of the restaurant and comfy booths along the walls. The center of the room features a communal high-top seating area. The food is great, and the prices are reasonably reasonable. The space also serves takeout, and the staff is friendly.
If you're on a budget, Moonshine 152 is one of the best brunch spots in the city. The dishes here are creative and rich, making it a unique brunch experience. It's also one of the best-undiscovered spots in Boston, so you'll get a taste of local culture while you eat brunch. You can also enjoy a casual brunch at Flour Bakery and Cafe, which is perfect for a casual Boston brunch date or daily breakfast run. You can easily make a reservation on Open Table or call the restaurant to reserve a table.
Cafe Luna
This cozy and relaxed cafe boasts a plethora of sandwiches, salads, and more. It's also a busy spot during the weekday brunch rush. Located in the South End, Cafe Luna is a must-visit if you're in the neighborhood.
In addition to its amazing brunch menu, Cafe Luna also features craft cocktails and a waterfront patio. The owners love fine food and wanted to create a restaurant that was both affordable and upscale. The cafe specializes in brunch in Boston and is known for its incredible breakfast and brunch items. The menu includes classic favorites like French toast, homemade corned beef hash, lobster eggs benedict, and lemon ricotta pancakes.
Brunch is the most popular meal of the day, especially for Bostonians. Fortunately, there are plenty of great brunch spots to choose from around town. Here are a few of the best places to grab a delicious meal. Cafe Luna is located at 88 Tremont Street and offers a wide selection of breakfast favorites.
A popular brunch spot in Brookline, Cafe Luna has been featured in many publications. The menu features stuffed French toast with ricotta, eggs benedict, and more. The restaurant also has a large, open kitchen that guests can see as they dine. Guests can also enjoy gratuity-free service.
Reelhouse
ReelHouse is an iconic dining destination in East Boston. Its menu features bold, globally inspired flavors and offers expansive views of the harbor. The waterfront patio is a lively gathering spot. The restaurant also features a large outdoor area and a full bar. Contact the restaurant directly for reservations or for more information.
The restaurant's nautical theme draws inspiration from classic Riva yachts. Its nautical decor includes faux olive trees, custom vintage-style booths, and a dramatic ceiling treatment inspired by wooden boat ribs. The restaurant also boasts large windows that offer breathtaking views of Boston Harbor. In addition, the restaurant's outdoor patio will open in the coming weeks. The restaurant is also set to launch a free water shuttle service in June. Those in the area can also ride public water taxis to the restaurant.
The menu features an extensive seafood selection. The restaurant also features a raw bar and clam bakes. Chefs use a variety of ingredients from around the world, including local catches. Other dishes include classic burgers, salads, and soups.