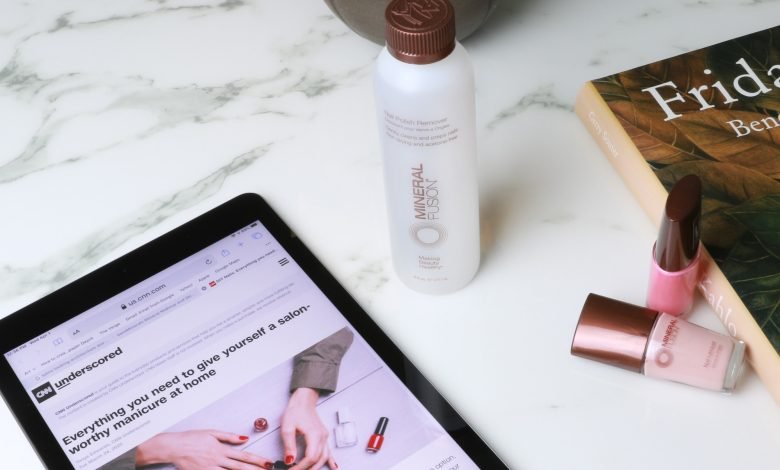 Manicures and pedicures are fantastic for self-care. Whether you go to a salon or do a fabulous DIY mani-pedi, you're doing something nice for yourself. A lot goes into a quality mani-pedi. There are base coats, top coats, nail care brands, and nail polish colors to consider. You also have to think about the nail polish remover you use. Fingernail polish remover plays a significant role in quality nail care. Like skincare products, the stuff you put on your nails matters. So, use this mini guide to find a polish remover that fits your mani-pedi style.
Conventional Fingernail Polish Remover
Conventional nail polish remover is what you find in the nail department of pretty much every drugstore. It's what the industry has been using for years and years. Using conventional polish remover isn't the worst thing you could do to your body. Yet, it does contain some potentially harsh ingredients like acetone. Acetone could make your nails look dry and feel brittle.
Acetone-Free Fingernail Polish Remover
If you want to help your nails look good before your next manicure, use a nourishing fingernail polish remover. A more natural, nourishing nail polish remover is almost always free of ingredients that could leave your nails in a questionable state. That means fingernail polish remover with cleaner ingredients does not contain acetone. Don't worry, though. A high-performance, acetone-free polish remover should still be able to take off a durable gel top coat. If you think you need a little extra power behind the removal, hold a cotton ball with nail polish remover on your painted nail for a few seconds. It should pull that lacquer right off while leaving your nails nourished.
Fingernail Polish Remover Wipes
One way to make that process even easier is fingernail polish remover wipes. You might have come across conventional formulas in this style. But acetone-free wipes are also available. They're super convenient if you chip a nail and want to take all the color off. You could also bring them with you if you plan to give yourself a manicure or pedicure and want to start with the cleanest canvas possible. Simply use one side for one hand and then the other side to remove the nail polish on the other hand.
Travel-Sized Fingernail Polish Remover
You can find travel-sized nail polish remover from many nail care brands. That includes those offering fingernail polish remover without acetone. Acetone-free polish remover is better for nails (sensitive or not). Travel-sized nail polish remover can come in handy on a trip. They're also great for anyone who doesn't paint their nails often. Sometimes, even a little amount can go a long way. If you want a particular acetone-free polish remover for a trip and it's only online, order it in advance. Some brands only use ground shipping for their nail care products.
Nail polish remover is a crucial part of your nail care routine. If you regularly paint your nails, you frequently remove nail lacquer. Maintaining your nails means using premium products that can offer them some kind of nourishment. Conventional polish removers with potentially harsh ingredients don't cut it. So, be sure to scan the list of ingredients before you purchase. Or at least check out a company's values and uncover what the nail polish remover doesn't contain. That way, you can ensure you help your natural nails look and feel as strong as they do with a high-quality gel top coat.
About Mineral Fusion®
Conscious, clean, and cruelty-free, Mineral Fusion® makes high-quality beauty and nail care products you can feel good about using every day. Their mineral-rich, plant-based formulas nourish your skin, helping it look more naturally radiant with every wear. Mineral Fusion's selection of mineral makeup and vegan nail polish allows you to personalize your beauty routine. They offer build-your-own complexion, eye shadow, and concealer palettes. Mineral Fusion also carries volumizing mascara, pore-refining primers, liquid concealer, 16-free nail polish, and a vegan Gel Top Coat Nail Treatment, among other options. With Mineral Fusion, you can work toward a naturally flawless-looking complexion. No potentially harsh ingredients or artificial fragrances will get in your way.
Find everything you need to maintain your nails with Mineral Fusion at https://www.mineralfusion.com/