Home Improvement
3 Ways to Add a Dramatic Flair to Your Small Patio
Ways to Add a Dramatic Flair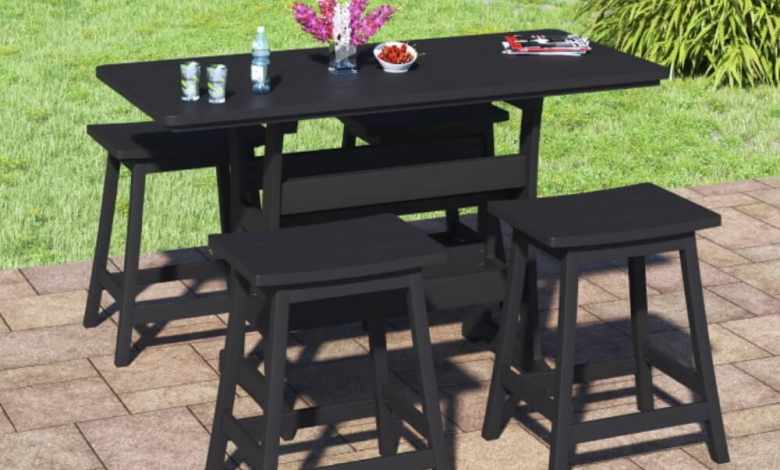 Exciting parties, dining al-fresco, lazily lounging in the sunny weather, or roasting post-dinner s'more with your family; functional outdoor spaces are the best settings for all these experiences!
Your patio should be a comforting space that reflects your exuberant personality and character. You could be a boho-chic fan who likes décor with a rustic appeal, or you could like something a little more intriguing, like silk ikat fabrics and vintage furnishings, but your patio can and should reflect your taste.
But things can be tricky when you're working with limited square footage. There's little space to move around; you have to choose space-saving furniture and find a way to maximize functionality. But we can help.
Read ahead to learn how to add some oomph to your small patio.
1. Minimalist and Modern
Minimalist design is all about finding beauty in simplicity. Also Uncluttered spaces with a monochromatic palette are soothing to the eyes and look sophisticated no matter what. Keep things simple by adding a mid-century modern outdoor patio sets with soft edges, a patterned rug, and pendant lights.
If you're planning a major overhaul, you can invest in a Japanese-style fire pit to elevate the décor and add a hearty mix of your favorite accessories.
You can also consider adding fire pit tables to enhance the functionality of your patio. Which will immediately add some edge to the space.
2. A Cozy Corner
Having a small cozy outdoor space dedicated to meditating and curling up with a book is very important for relaxation. Craft a cozy cocoon on the patio by opting for wicker furnishings, ebonized oak floors, rattan lounge chairs, and bronze-accented chandeliers.
Wicker is a time-honored material that is well-loved for its sustainability and resilience. Au natural wicker furnishings will make a stunning addition to your patio, especially when paired with eclectic accessories.
You can add to the coziness by opting for plush throws, layered rugs, knitted poufs, and unique light fixtures to illuminate your décor.
3. A Blend of Contemporary and Vintage Décor
There is an undeniable magical appeal to experimenting with vintage décor styles and contemporary pieces. If carefully done, these two styles can come together wonderfully.
Consider adding 19th-century petite chandeliers, contemporary patio sets, cotton damask upholstery, Persian rugs, and gorgeous new light fixtures. Opt for fresh and breathable new accessories to eliminate any bleakness from your outdoor space.
Juxtapose different materials like mid-century modern coffee tables and silver sconces for some elegant touches.
Ready to give your patio the ultimate makeover? Indulge in high-quality and well-crafted traditional outdoor furnishings at PatioHQ today. Their range of durable and scene-stealing furnishings includes patio end tables, ottomans, sectionals, chaise lounges, and dining tables.
Introduce a touch of drama and exuberance to your outdoor space with contemporary patio furniture today. Also, reach out to them to place your order.
About the Author
Farah B. is a home décor connoisseur who has been working with PatioHQ for the last eight years. Being an interior and exterior décor expert, Farah writes detailed blogs sharing expert tips and tricks to help people make impactful changes in their homes. Also the author likes to share design inspiration, product recommendations, and must-have accessories for indoor and outdoor spaces. In her free time, she likes to spend time with her pet cat and tend to her herb garden.