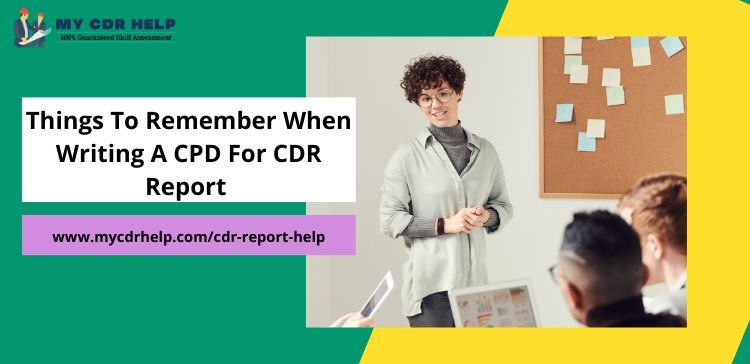 A CPD is an integral part of a CDR report. The full form of CPD is continuing professional development. It is a way to keep EA updated about the latest developments in your engineering career.
A CPD report helps you represent all of the skills and knowledge you earned in your academic years. It connects all your methods, concepts and strategies for personal development in the engineering field.
Furthermore, it can help you in expanding your professional networks and contacts while earning professional recognition. In simplest terms, a CPD is an important part of your CDR, as it helps you show your talents in your engineering domain.
Having given you a clear idea of CPD, let's move further to know further about it.
Things to consider when you write a CPD for a CDR report:
EA has established the content and format to prepare a CPD. So, keep the following things in mind when you write a CPD for EA:
Keep it formatted as a list.
You need to organize it chronologically.
It may include any official or informal engineering endeavor.
Don't keep it longer than one page.
It should have specific information regarding the title, time, date, place and any other necessary information.
You may upload certificates from courses and events in which you took part
This report is more than just a list of technical skills. A CPD includes information like employing any software, code or business management methods while working for the organization.
Present it in an understandable list format. A CDR application consists of all CPDs that will be valuable in your future.
Your CPD must highlight what tasks were completed rather than how you attained them.
It's not necessary to include all certificates from the courses you indicated.
While writing, you must include all the following aspects to show your eligibility in your profession. The following are the topics that your CPD may include:
Technical presentation
Volunteering works
Technical courses and workshops
Research papers
Technical articles and journals
Seminars and conferences
Technical meetings and gatherings
And technical discussion group
Why you should take CDR report writing services:
The following are the compelling reasons to take CDR help:
A guarantee of success and on-time delivery
When a professional CDR report writer writes your CPD, then they write it without any flaws. Therefore, your CPD enhances the quality of your CDR, which leads to a positive assessment by Engineers Australia.
Expert advice
When you take professional CDR report help, then the firm also provides you with free professional advice from your engineering field. Such expert advice will help you know the Australian engineering atmosphere much better. This way, you can better prepare for that.
Reference materials and helpful bibliographies
You will also get reference materials and helpful bibliographies for free. This facility will help you gain a much deeper knowledge of your engineering field. This knowledge will be more valuable and help you stand out among others with just ordinary knowledge.
A refund policy
By hiring CDR report writing services, you will get a money-back guarantee or refund policy. It will allow you to get your money back if you have a negative result or late delivery.
Customer support services
No matter how expert report writing services you take, you will always feel nervous and tense. Therefore, the firm will give you round-the-clock customer support services to help you get in touch with the agent. By doing so, you can get all doubts clear and all questions answered.
Direct communication with the writer:
You will also get a direct communication facility with the writer. Having so, you can make everything clear about your expectations and requests to them. This way, they will know your expectations much better and prepare the report according to that.
An unlimited free correction facility
You can ask the writer to make changes to your CPD or CDR report as many times as you want. They will do so without asking you for extra payment, as this facility is free.
Free Turnitin reports
To assure you that your CDR report content is genuine, the firm will give you free Turnitin reports.
Privacy
Your personal details will be kept confidential. The firm will keep them away from any third party.
Transparency
You will be able to know all the stages your CDR or CPD goes through, which will keep you tension-free.
If you need to know more about the CDR for a CDR report, contact us.