With businesses witnessing a digital transformation almost every day, it becomes a challenge for them to process, store, collect as well as analyze the data they receive. This makes it vital for them to manage the data in a way that they can act on those data in a streamlined manner going ahead. This is where artificial intelligence and machine learning step in.
The solutions come with a wide array of benefits for business ventures with the most prominent among those benefits is providing businesses with a competitive edge.
In the lines below, I will introduce you to these two technologies, providing you an insight into their advantages particularly for the business. This will help you to get an idea of why it is, therefore, a good idea to include these tech stacks within operations for new businesses.
So without further ado; let us begin.
Introducing You to Artificial Intelligence – What's All the Buzz About After All?
In simple words, if I have to state the meaning of artificial intelligence, it means you replicate human actions from a machine. This includes the ability to make decisions, communicate with users, and so on.
However, it is important to note here that AI does not replace humans. It simply just enhances their capabilities and the way they work all together.
So now that you have a basic idea of what AI is; let me now give you an idea of the AI software tools.
All You Need to Know about Artificial Intelligence Software Tools
Talking about AI software tools, these items utilize AI technology channeling some of their algorithms. This is to automate and ease the different day-to-day tasks.
This includes saving time and effort considerably, followed by helping employees to boost their productivity to a great extent.
Now that you have an idea about AI, and the tools using this technology, let me now give you examples of some popular AI tools businesses use to automate their operations.
Grammarly to automate the task of writing content and ensure the creation in fact of well-structured content free of plagiarism as well as any form of grammar errors.
Timely to manage and track time, and simultaneously automate the different internal business processes in a streamlined way.
Textio for enhancing the job listings. Used by big names like Twitter, Square, etc. Textio analyzes words, phrases, etc., along with eliminating gender bias thereby ensuring a maximum number of people are engaged in the job postings.
Crowd strike to identify and bring an end to any form of security threats that may occur in the business operations in real-time.
All You Should Know about Machine Learning
Analytical model building is something that is automated through machine learning. Being a form of data analysis, it helps to streamline the task of decision-making with minimal human intervention.
In simple words, it is an AI application that empowers systems to perform tasks like enhancing from experience and learning side-by-side without the requirement to be explicitly programmed. This is due to the focus it places on developing computer programs so that data access becomes easy to perform.
Knowing now the meaning of machine learning, let me now help you understand how it functions in the lines below.
How does Machine Learning Work?
Look at this video to understand the easy functioning of machine learning.
In the lines below, I explain the step-by-step functioning of machine learning.
Data Collection from reliable sources
Data preparation by assimilating all the data, randomizing it, cleaning it, visualizing it, and splitting it
Select a model that will automate tasks like speech recognition, prediction, and so on. This also includes determining if the model is right for data segmentation or not.
Train the model so that finding patterns and make predictions based on the data you process into it.
Evaluate the model to identify the performance level and analyze the areas that require some focus.
Tune the parameters to get an idea of the accuracy requires improvement
With these steps, data prediction becomes easy, and businesses can conceive decisions without any obstacles.
Now that you know about the functioning of machine learning, and what artificial intelligence is all about, let me now give you an insight into the statistical figures. This will help you understand the overall increase in revenues that businesses have observed and will continue to observe in the years to come with these tech stacks (AI/ML).
Statistics to Depict Profitable Nature of AI/ML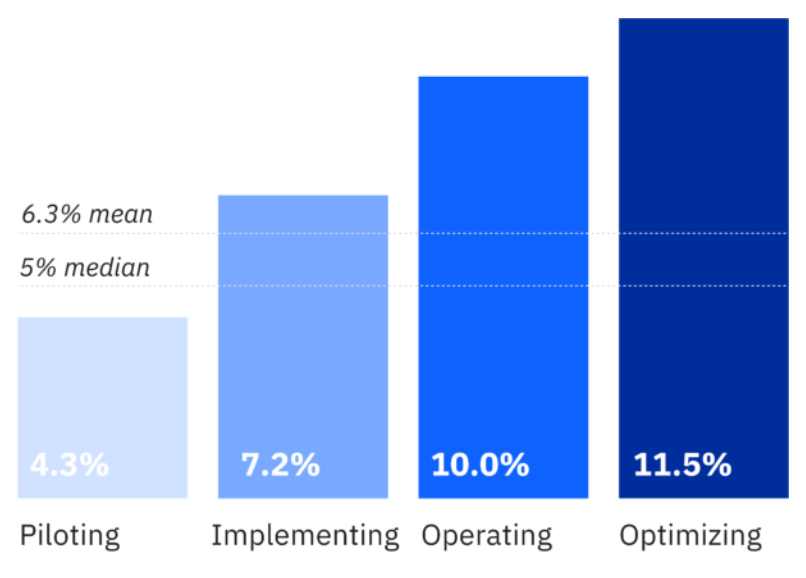 The above image depicts how the tech stack boosts revenues to a great extent by accelerating the pace of deliveries, and outputs, apart from providing forecasts in a streamlined way.
Thus, it is a good business proposition to include AI/ML within business operations.
Doing so will empower businesses with the following advantages-
Ensure Real-Time Business Decision Making
As AI and ML help gain better results, making decisions in real-time will also become easier. This is due to the support they will provide in analyzing current data and understanding human behavior. All this will go a long way in assisting businesses to create actionable insights. This will allow them to remain ahead of the competition.
Predict Customer Behavior Seamlessly
Observed mostly in retail stores, where based on search results of users', the business provides personalized results so that users receive a uniquely personal experience while operating the app. This is due to the presence of AI/ML. It helps to analyze the customer behavior based on the search results they receive from them. Hence, with the support of this tech stack, it will become easier for you to know how your customers interact with your solution and help you to ideate strategies that will make the task of serving customers easy.
Will Enhance Security
The main area of concern for a business is ensuring the security of their private data. Despite businesses working towards building walls to enhance security, some or the other incident takes place that goes on to affect this area and cause a threat to this aspect. This is where AI/ML comes in handy. It will help you to identify the different threats within the network and perform steps to prevent those occurrences. Mostly the algorithms within these tech stacks will go a long way in enhancing this area to a great extent. This will further your growth in the long run.
Key Takeaways
It therefore becomes clear; including AI development and machine learning for your business will help scale up your operations a great deal ensuring that it can function seamlessly.
Wrapping Up
Machine learning and artificial intelligence development services go hand in hand ensuring business growth gets boosted, and rate of errors for new startups goes down by an exceeding percentage.
Hence, if you wish to transport your business to the next-gen level of success and ensure it is serving your customers better, embrace these tech stacks today, and see the difference. With many industries already observing a difference in their revenues, and operations like healthcare, retail, etc. through the inclusion of these tech stacks, your business too will observe a good growth in the years to come.