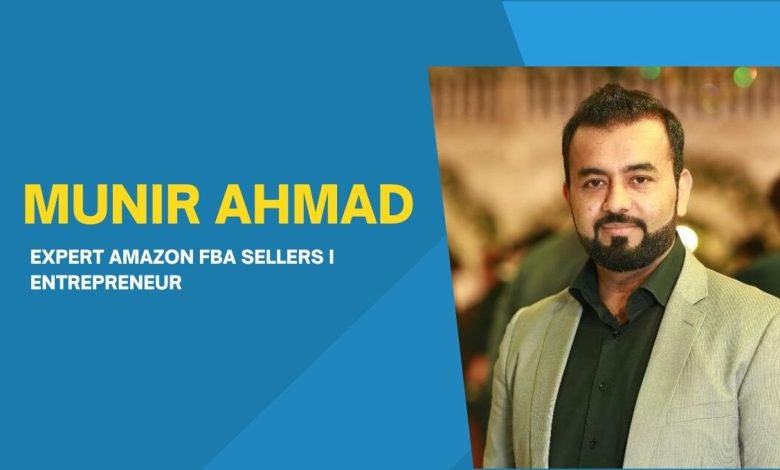 As we all know, Amazon has been the largest and most successful e-commerce platform for almost 20 years. Beginners are using this platform to save money and keep their business with millions of products.
Munir Ahmad was also a beginner who started from scratch and made his name in the world of Amazon with the help of a great team leader.
He is now a well-known Amazon FBA seller and consultant who provides guidelines on e-commerce platforms, specifically Amazon. He is doing business not only on Amazon but also on other platforms. And because of his 16 years of experience in the business industry, he knows client and time management. He also provides guidelines for future career counseling. Career counseling is indeed the need of the hour. He is the CEO and Co-founder of E-commerce Planners, a digital agency providing multiple services. Services include Amazon FBA A-Z, Digital Marketing, PPC Management, Content Writing, and other demanding services.
Munir Ahmad's Road to Excellent Skills
Munir Ahmad also worked in different countries to get to this point. In 2008, he moved from Pakistan to Dubai, where he was offered a job at a well-known software house. Since then, he has entered the e-commerce industry. There, he worked with various organizations and learned things that took his skills to another level.
After some time, he returned to Pakistan and invested in various e-commerce platforms. In fact, working in Dubai has increased his interest in e-commerce. That's why he made his personal portal in 2017, named SHOPKER.PK, in which he invested over one million. His primary purpose is to promote e-commerce and provide useful guidance on it.
Munir Ahmad has mastered omnific and bewildering skills in different areas because of his 16 years of work experience in online businesses. Now he provides his services for the betterment of youth worldwide.
Munir Ahmad, A lead trainer in Extreme Commerce
Currently, he is working as a lead trainer in an Extreme Commerce incubator and providing his services to many countries, including the UK, USA, Canada, etc. He manages clients all over the world.
His primary purpose was to make a name in his field and to learn as much as possible. He got what he wished through his hard work. Anyone can do whatever he wants. It just needs focus and hard work to make something impossible possible.
FAQs
Q.1 How can I sell on Amazon?
Ans: To start selling on Amazon, you need to make an account. You 犀利士
need to have:
Business Email Address.
Credit card with international charging capabilities.
Government identification for protection.
Information on taxes.
Telephone number.
Bank account where your sales revenues will be sent by Amazon.
Q.2 What does it cost to get started with FBA?
Ans: It is all up to you. If you're short on cash or don't want to take a substantial risk, you may start with as little as $500 in inventory.
Q.3 How can I start with Amazon Private Label Services?
Ans: One should have a good knowledge of the costs of private labeling and the products they are selling. Decide your unique selling point, design a logo for your product, find the suppliers, and build a brand.
For more related information, please visit our website.