Kids and Teens
Protecting Kids on Minecraft: Is Minecraft Safe for Kids?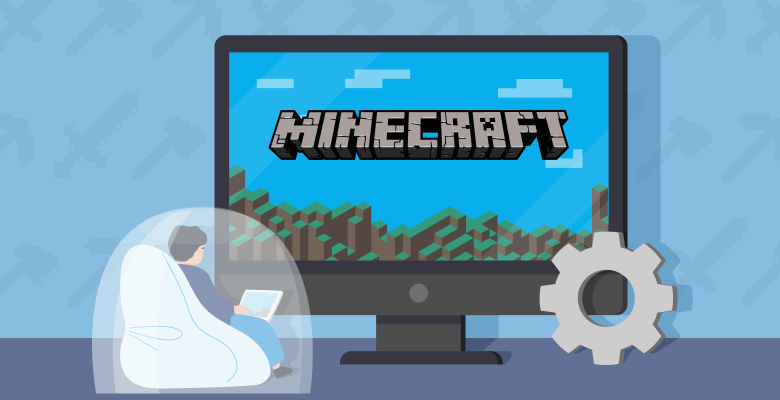 Minecraft is a very popular game and a popular hobby for children. Minecraft's depth allows players to build their own world, collect resources, and create new items. Is Minecraft safe for children?
The game can be played in single or multiplayer modes. It is important that your child stays safe online when playing Minecraft. Multiplayer interactions can be dangerous not only for your child but also for your family's cybersecurity.
What is Minecraft?
Minecraft is an adventure video game that features a blocky, kid-friendly design by Mojang. Imagine colorful blocks mixed with animated characters. This game is a classic that has been in existence for more than ten years and has seen a huge increase in popularity.
A Sandbox game is one that allows gamers to create their own world without any goals or requirements. This opens up endless possibilities for users. The game is fun for kids to play by exploring and experimenting with the features, reading blogs or books, and watching YouTube videos.
You can play the game by yourself, but it's better to have friends. Teamwork makes Minecraft more enjoyable and easier, including building structures and fighting off zombies.
Users often join "servers" to play with other players online, or over a local area network. Servers are a self-contained multiplayer environment, with the server owners often setting the rules and playing style. Most servers are not owned or managed by Mojang. Anyone can create a server. It's important that screen them before children join.
It is safer to play with friends than with strangers. Service like RadminVPN allows users from different places to connect to the same virtual network.
Minecraft age restrictions: Best for children aged 10+
Minecraft is rated 10+ by the Entertaining Software Rating Board (ESRB). This is due to fantasy violence. However, Minecraft requires that all children below 13 have parental approval before they can play.
The game's simple-to-learn nature and blocky graphics can make it suitable for grade school children. You should allow your children to play the game with you.
Use it to access your login details.
Only single-player and private server play is allowed.
In case of problems, let your child play with a responsible adult.
Minecraft versions for various consoles
There are four versions of Minecraft
Java Edition (Windows and Mac)Bedrock Edition (Windows and Mac)
Pocket Edition (Mobile).
X-box
Although there are very few differences between Java Edition Edition and Bedrock Edition, they are not compatible. Make sure to know what version of Minecraft your child wants before you buy it. Their friends may be using one or both. Although Java is the most popular, it's worth checking before you spend $20.
There are three modes of Minecraft: Survival, Adventure, and Creative.
There are three types of play: Survival, Adventure, or Creative.
The creative mode is very peaceful. This mode is all about creativity. You can build houses or craft items. This mode is more laid-back and relaxed and is ideal for children who want to explore the world and test the game's mechanics. However, the creative mode allows players to access "TNT", which acts as a bomb within the game.
Adventure mode is a role-playing type game, similar to Final Fantasy XV or Genshin Impact. This mode is more violent and less focused on the building part of the game. Players can't change the world they are in, unlike creative mode.
Survival has the highest violence potential. Kids can play an RPG like adventure mode. However, they can also edit the world. Survival mode also has "difficulty" levels that affect how creatures appear in-game. These levels include:
Peaceful Difficulty No mobsNormal Difficulty A normal amount of mobs will spawn in dark areas
Hard Difficulty Mobs can be harder to kill, and they spawn more often.
Minecraft is safe for children?
Minecraft is a healthier video game than other popular ones. The community is generally not dangerous or toxic. It encourages cooperation and spatial awareness development .
There are risks, however, just like all games.
Minecraft violence
Minecraft is safe for children younger than 5 years old, even though it only contains mild violence. Minecraft's blocky graphics make the violence unreal, which is not the case with other video games.
A monster that is defeated will disappear in a puff of smoke . This could leave behind useful materials for crafting. These monsters are weakened by the loss of their "hearts". The player who "die" will reappear (also known as "respawn") at their original starting point when they joined the game. If they are currently sleeping in a bed, they can also respawn on it.
The game doesn't have any blood or bodily harm. However, weapons are required to fight off monsters, such as a bow or arrow and a sword. It's up to your decision whether certain game modes are suitable for your child.
Cyberbullying and inappropriate material
Mojang, which is behind Minecraft, does not monitor all online interactions. While some servers may have their own moderators there is no guarantee that all servers will. This means that players may not be able to communicate with their children online. Your child will have to deal with any inappropriate or harmful conversations.
The player versus player (PVP), interaction can lead to players getting agitated. Healthy competition can become cyberbullying and online arguments via chat without proper supervision.
Large servers could also pose a problem. Servers hosting a lot of players can be more difficult to moderate and often aren't thoroughly screened. Your kids could end up playing with older users or players who are committing repeated violations of rules.
Minecraft privacy threats
Censored eye on laptop screen When your child connects with a server to play multiplayer his IP address is visible to the server owner. This could be a threat to your child's privacy and to your own. Your IP address is linked to your location, so it is important that you take steps in order to protect your online anonymity.
The internet allows for interaction with people outside of player-made servers. This game's servers can be viewed as communities. People who work together to create beautiful virtual worlds. The problem is that communication does not happen on the platform.
Many Minecraft servers also include a discord server. A passion for Minecraft can lead your child to unmoderated forums and Reddit. Third-party websites offer game mods that can enhance your child's gaming experience.
All of this online activity could make them vulnerable to data breaches, hacking attempts, and other forms of cybercrime.
The possibility of addiction is another danger that Minecraft and other games pose. Gaming addiction is now more common than ever. This article on gaming addiction in children offers some helpful tips to help you stop this addiction.
Are YouTube Minecraft Videos Safe?
Minecraft YouTubers are an important part of what attracts kids to Minecraft. Minecraft is more than a game to them. They have fun explaining how to make certain creations and sharing their game hacks.
There are many kid-friendly YouTubers. However, there are also plenty of non-kid-friendly channels. We recommend that parents review YouTubers and watch some videos before allowing their child to view a Minecraft YouTuber.
These are some of the most loved YouTubers that are kid-friendly to Minecraft:
DanTDM
stampylonghead
paulsoaresjr
iHasCupquake
Source: https://www.safes.so/blogs/is-minecraft-safe-for-kids